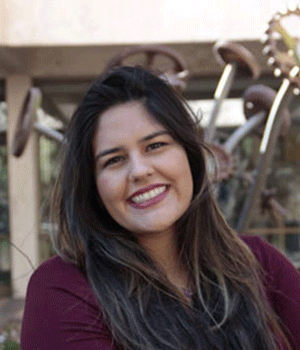 Ariana Engles '20 (Lovett)
Ariana Engles came to Rice hoping to find a place she could call home. While at Rice, she served the university through a variety of leadership positions and spearheaded initiatives aimed at building and improving the Rice community. As a Mexican-American student, creating a sense of inclusion for all was a top priority, particularly during her tenure as SA senator and president.
As an undergraduate, Ariana was a proud member of Lovett College and studied religion. Outside of the classroom, she advocated both through leadership positions and her volunteer work for immigrant's rights, educational equity, students with disabilities, civic engagement and homelessness. While SA president, she focused on creating student support programs for undocumented and immigrant students, supporting survivors and improving mobility safety. Ariana fostered Houston-wide connections through the Mayor's Student Leadership Alliance, where she served on a committee focused on reducing food insecurity on Houston's college campuses. Ariana served as a TA for UNIV 110: Foundations for Self-Discovery as well as Rice's innovative Critical Thinking in Sexuality course, and was an O-week co-advisor at Sid Richardson twice. Ariana took joy in mentoring her peers and building support systems for students across campus. Rice is where she learned to truly understand the phrase "if you want to go quickly, go alone. If you want to go far, go together."
After graduating, Ariana joined EY-Parthenon as an associate in the Transaction Strategy & Execution practice. She has partnered with a local school to develop anti-racist programing and has continued mentoring younger students. Ariana stays connected to the Rice community through her position on the SOLAR executive board, as a Lovett associate and through the Rice Alumni Volunteers for Admissions (RAVA) program.
---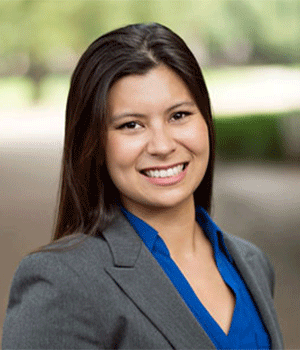 Alicia Mangubat-Medina '16 '20
Alicia Mangubat-Medina elevated the Rice community by spearheading initiatives that strengthened bonds within the Rice community, alumni and local communities.
As a graduate student in chemistry, Alicia was a proud member of the GSA, volunteering at numerous events and as a Valhalla bartender, and serving as an Iron Woman on the GSA Beer Bike Team for three years. Recognizing opportunities to further develop the Rice community, she began founding and coordinating new events to build interdepartmental bonds, engage alumni and involve young women in the Houston community in scientific research. Her first initiative, the Bucky Ball, was the first of its kind for the GSA and consisted of a formal interdepartmental social gathering to celebrate the Nobel Prize awarded to Rice chemists. The event has, in a few short years, become tradition. Within her department, Alicia organized an annual career symposium to engage alumni in returning to Rice to share about their career paths. In addition to enhancing the experience of her fellow graduate students, she engaged local Girl Scouts in learning about scientific research by starting the community outreach event Girls n' Science, where graduate students from all STEM fields mentored young women in discovering research.
Alicia holds a Ph.D. in chemistry and is currently a Hewitt Foundation for Biomedical Research Postdoctoral Fellow at the University of California, Irvine, where she is developing bioluminescent probes for in vivo imaging.