Dallas-Fort Worth Rice Alumni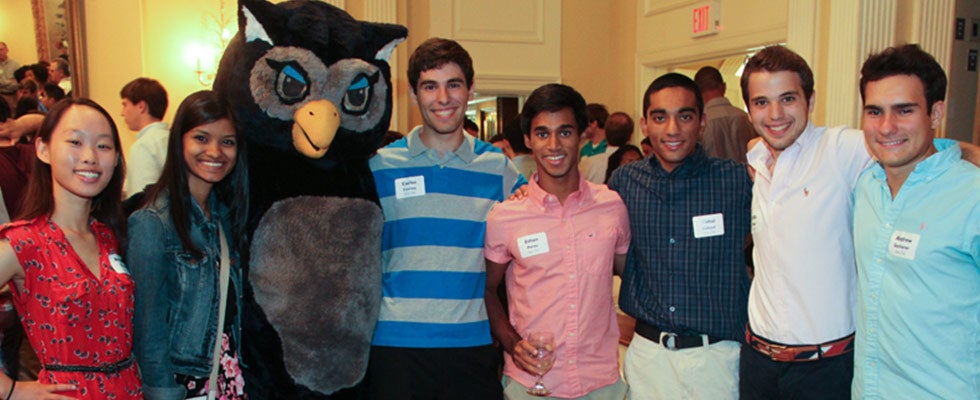 Welcome Dallas-Fort Worth Rice alumni! We are proud to serve the entire Rice community living in the DFW area. We strive to provide opportunities for you to engage with Rice and with your fellow Owls through a variety of educational, cultural and social events, as well as athletic and service-oriented gatherings. Join us and share your great ideas, as well!
The first step is staying connected, so please be sure that your email and mailing addresses are current on the Rice Portal so you can get all our DFW-related emails and mailings. We invite you to join us on Facebook as well.
We hope to see you at our future events!
Upcoming Dallas-Fort Worth Events

Dallas-Fort Worth Volunteer Leadership
President
Marty Sosland '75
Immediate Past President
Christopher Coffman '03
Committee
Marcus Aguilar '76
Don Glendenning '76
Kal Silverberg '83
Martha Aguilar '76
Marty Sosland '75
Candace Ahlfinger '80
Rusty Jaggers '73
Gloria Tarpley '81
Kenitra Brown '07
Lindsay Kirton '11
Drayton Thomas '14
Chad Benedict '01
Steven Loh '10
Jasmine Tiro-Richard '97
Russ Coleman '82
Greg Magel '81
Gerry Urbach '65
Brian Crowe '80
Laurie McNamara '12
Michelle Vobach '85
Brian Doherty '98
Amy Gow '85
Wanda Gass '78
Travis San Pedro '12
Dallas-Fort Worth Affinity Groups
Young Alumni is a community-building group geared for young alumni who have graduated within the last 10 years. Our group facilitates social, service, and networking events and acts as a conduit to the university and to other alumni groups in the area. Contact Travis San Pedro '12 at travissanpedro@gmail.com for more information.
Rice Business Network Alliance–DFW Chapter provides professionals in any industry an opportunity to network and build connections. Programs include monthly mixers on the third Tuesday of each month from 6-8 p.m. (check calendar for details). Contact Christopher Coffman '03 at coffman@alumni.rice.edu for more information.
Rice Engineering Alumni-DFW seeks to connect alumni, support students and encourage excellence. REA-DFW's events include hosting engineering-related speaker events and social gatherings. Contact Timothy Daniel '81 at timohacker@msn.com for more information.
Athletics Committee supports and generates enthusiasm for Rice's athletic teams by organizing watch parties, attendance at Rice events in Austin and elsewhere, and coordinating visits by Rice coaches and athletic officials. Contact Steven Loh '10 at stevenloh.loh@gmail.com and Drew Tucker '86 at dtriceu@gmail.com for more information.
Community Service Committee provides opportunities for Rice alumni and friends to gather and support the local community through volunteerism and community service projects. (Interested in serving as the Community Service Chair? Let us know!)
Speakers Committee seeks to maintain the connection between Rice and local alumni, parents and friends by providing continuing education and lifelong learning program opportunities featuring Rice faculty, staff and distinguished alumni. Contact Gloria Tarpley '81 at ggtarpley@sbcglobal.net and Gerry Urbach '65 at gurbach@hhdulaw.com for more information.
Family-friendly Committee provides opportunities for alumni and friends with families to enjoy activities together while still engaging with Rice and fellow Owls. Opportunities include family oriented social gatherings such as sporting events and museum visits. (Interested in serving as the Family-friendly Committee Chair? Let us know!)
Rice Alumni Volunteers for Admission (RAVA) supports the recruitment process, public relations goals and selection process at Rice University. RAVA provides an opportunity for prospective students in the DFW area and beyond to have an off-campus interview and conversation with a Rice alumna/us. RAVA volunteers serve as a contact and resource for students we have interviewed and encourage admitted students from the DFW area to attend Rice. For more information, visit RAVA's volunteer page: http://futureowls.rice.edu/futureowls/RAVA.asp or contact our local RAVA captain Christopher Coffman '03 at coffman@alumni.rice.edu.
Rice University Lawyer Alumni–DFW is an interest group consisting of attorney alums and friends. This is a newly formed group that will gather several times a year at networking and social events and CLE programs featuring alumni and leaders in the profession. Contact Russ Coleman '82 at russell.f.coleman@gmail.com for more information.