Austin Rice Alumni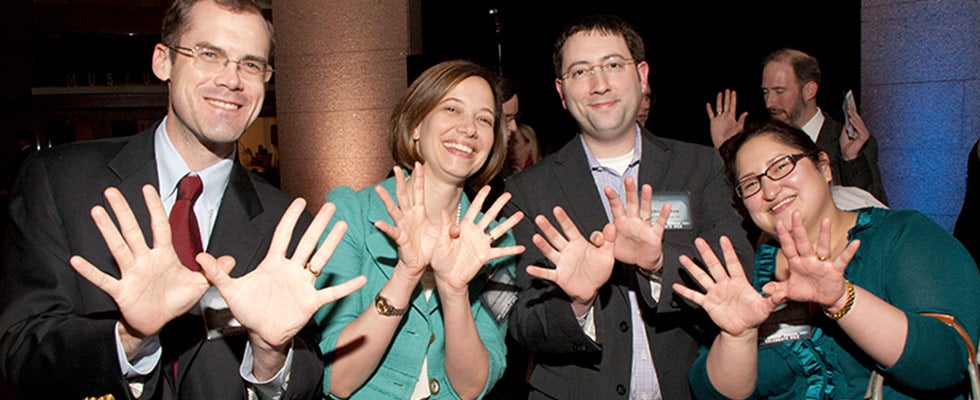 Welcome Austin Rice alumni! We are proud to serve the entire Rice community living in Austin. We strive to provide opportunities for you to engage with Rice and with your fellow Owls through a variety of educational, cultural and social events, as well as athletic and service-oriented gatherings. Below you'll find a range of affinity groups that offer activities tailored to the interests of individual Austin Owls.
The first step is staying connected, so please be sure that your email and mailing addresses are current on the Rice Portal so you can get all our Austin-related emails and mailings. (If you haven't signed up for an alumni account, please do so there.) We invite you to join us on Facebook as well.
We hope to see you at our future events!
Upcoming Austin Events

Austin Volunteer Leadership
President
Alice Walker '96
President-Elect
TBD
Past President
Toya Cirica Bell '87

Austin Networks
The Austin Rice Alumni chapter is an umbrella group composed of a wide range of networks that offer activities tailored to the interests of individual Austin Owls. For more information on programs and volunteer opportunities, please email Amanda Martindale, associate director of alumni networks, or check our Facebook page.
Monthly Happy Hours take place on the last Thursday of the month, unless holidays conflict. Join the email list at https://archives.simplelists.com/subscribe/riceaustinhh/to receive announcements about the time and location of each month's event. A confirmation email will be sent to you. Please be sure to check your junk folder if you do not receive it. Or contact Sharon Breard Reese '91 at sharonreese@me.com
Rice Attorneys in Austin is an interest group consisting of attorney alums and friends. We gather several times a year at networking and social events, CLE programs featuring alumni and leaders in the profession, a mentoring event for law student alums, and our annual holiday social and owl exchange. Contact Toya Cirica Bell '87 at tciricab@gmail.com for more information.
Austin Rice Book Club meets several times each year to discuss a selection of books. You don't have to finish the book to join in the discussion. For more information about the Book Club, visit http://groups.yahoo.com/group/ricebookclub or contact Joyce Pulich '69 at joycepulich@sbcglobal.net.
Rice Young Alumni is a community-building group geared for young alumni who have graduated within the last 10 years. Our group facilitates social, service and networking events, and acts as a conduit to the university and to other alumni groups in the area. Contact Amanda Martindale at adm8@rice.edu for more information or with ideas for Young Alumni events.
Rice Austin Parents Group provides a support network for parents of current Rice students. Social gatherings occur three to four times per school year and often feature a guest speaker from Rice University. Utilize the Austin Rice Parents Facebook page to engage with other parents.
Rice Alliance for Technology & Entrepreneurship-Austin Chapter seeks to work with and assist entrepreneurs at all stages, from idea to exit. Programs include recurring annual events, such as the nine-week Entrepreneur's Workshop and panel events on topical technology developments that gather experts and leaders to drive thought-provoking discussion. The Austin Chapter also partners on other events with entities such as Austin Technology Incubator (ATI) and the Rice Initiative for the Study of Economics (RISE). For more information, please contact Chapter Administrator Jenny Garcia at austinricealliance@gmail.com or visit our website, www.austinricealliance.org.
Rice Engineering Alumni-Austin seeks to connect alumni, support students and encourage excellence. REA-Austin's recent events include participating in build days with Habitat for Humanity, judging student projects at the Austin Energy Regional Science Festival, and hosting speakers and social events. We are run by a group of alumni volunteers and are looking for new members to join our steering committee. For more information, contact Robin Brooks '85 at robin.brooks@alumni.rice.edu.
Rice Alumni Volunteers for Admission (RAVA) supports the recruitment process, public relations goals and selection process at Rice University. RAVA provides an opportunity for prospective students in Austin and beyond to have an off-campus interview and conversation with a Rice alumna/us. RAVA volunteers serve as a contact and resource for students we have interviewed and encourage admitted students from Austin to attend Rice. For more information, visit RAVA's volunteer page, http://futureowls.rice.edu/futureowls/RAVA.asp, or contact Todd Ballengee '92 at tball@alumni.rice.edu.
Austin Rice Athletics Committee supports and generates enthusiasm for Rice's athletic teams by organizing watch parties, attendance at Rice events in Austin and elsewhere, and coordinating visits by Rice coaches and athletic officials. This group is led by Jay Lamy '95, who can be reached at lamy@aquilacommerical.com.
Austin Rice Doctors offers social opportunities such as happy hours to allow Austin-area Rice doctors to network and get to know each other better. Contact Jeffrey Michel '85 at jbmichel@mac.com for more information.
The Austin Rice Real Estate Alumni (ARREA) group meets quarterly to hear lectures on current events in the real estate industry. Members are both professionals in the field — real estate brokers, architects, lenders, real estate attorneys, title insurance owners and real estate consultants — and individuals who have invested in real estate. Past activities include a lecture on the new medical center by the architecture firm creating the master plan, a symposium on investing in multi-family properties, tours of the newly developing Austin Community College campus, redevelopment of a major retail center and tours of an assisted living facility. The group is led by Alice Walker '96 and Douglas Plummer '97, who can be reached at douglasplummer@alumni.rice.edu.