Estevan Daniel Delgado '13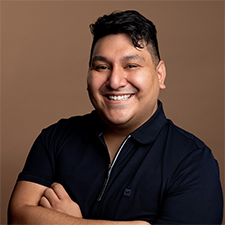 ARA Board Executive Committee
Director for Justice, Equity, Diversity & Inclusion, LBJ School of Public Affairs at The University of Texas at Austin
B.A. 2013, Rice University
MPAff 2018, The University of Texas at Austin

ARA Board term ends: 2023


Get to Know Estevan
Executive Biography

Estevan Daniel Delgado has a bachelor's in ecology and evolutionary biology from Rice University. After graduating, Delgado worked as a healthcare quality and risk analyst for Legacy Community Health and later served as the senior project coordinator and research assistant on a Patient-Centered Outcomes Research Institute award at Baylor College of Medicine's Center for Medical Ethics and Health Policy. Delgado earned his Master of Public Affairs from the Lyndon B. Johnson School of Public Affairs at The University of Texas at Austin. During his time at the LBJ School, he worked with Texas CASA's public policy and legislative advocacy division throughout the 85th Texas Legislative Session and interned in Washington, D.C., with U.S. Congressman Gene Green of Houston. In his current role at the Austin Community Foundation, Delgado oversees day-to-day operations of the Hispanic Impact Fund, which supports the economic security and advancement of Hispanic central Texans through community partnerships. Delgado is the proud son of autoworkers and is a first-generation college graduate.

What part of serving on the ARA Board are you most excited about?

I am looking forward to connecting current and future alumni doing amazing things all over the world. I also am excited to do my part in helping our alumni programming, outreach and engagement continue to be one of the best parts of the Rice experience. So many "Owl"umni all over the world are doing great things, and I cannot wait to help showcase your work to the greater Rice community!

What is your favorite "Only at Rice" memory or story?

I worked with Facilities Engineering & Planning as a communications intern for most of my time at Rice. There is a good place to get some mad air in those golf carts over by the Cohen House.

If you could give one piece of advice to Rice students, what would it be?

You do you! There are so many paths to success in the world. I started out my Rice career thinking I wanted to go to medical school. The beauty of Rice is that I was exposed to so many diverse opportunities and perspectives that I was able to weave a path that lead me to policy school and to my current work in philanthropy. Let your time at Rice truly unconventional. You never know where you might end up!