Rice Ring: A Tradition since 1916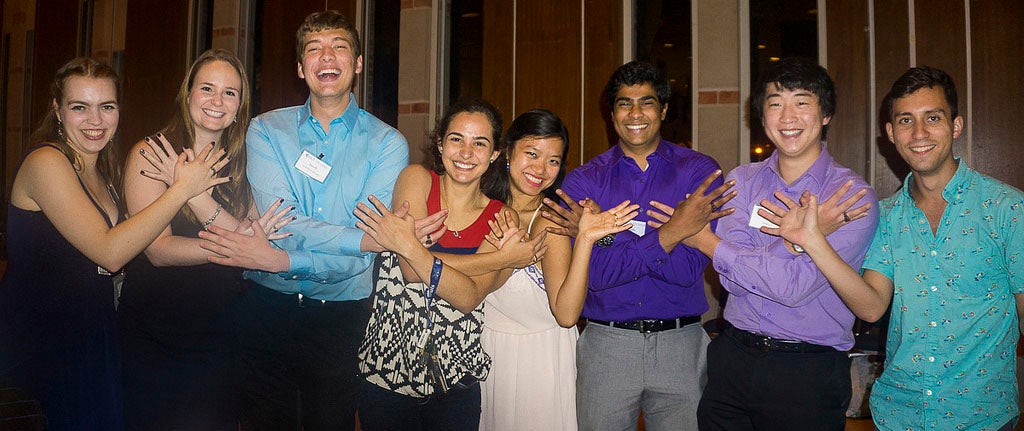 The Rice Ring
The Rice Ring is one of Rice University's longest-standing traditions, dating back to the original owl-inscribed rings of the inaugural 1916 graduating class. The Rice academic seal was added the following year, and since then, all Rice Rings have followed the same template, a decision that has preserved the integrity of the tradition for more than a century. Order your Rice Ring and carry a little piece of campus with you wherever you go!
Ordering Your Rice Ring
Eligible students may purchase their Rice Rings online at www.balfour.com/rice or by calling Balfour at (866) 225-3687 weekdays from 8:30 a.m. to 5 p.m. CT. Students can also order in person with Balfour representatives on campus during specific dates in the fall and spring.
Rice Ring Celebration
Each fall, the Association of Rice Alumni sponsors a Rice Ring Celebration to honor students' accomplishments and bring together families, distinguished alumni and university representatives. Join us Friday, Oct. 29, for an outdoor reception and champagne toast celebrating our 2021 Rice Ring recipients!
Rice Ring Celebration
Friday, Oct. 29
Peter and Nancy Huff House
5-6 p.m. CT
The Rice Ring Celebration is just one great part of Owl Together, Rice's week-long Homecoming & Reunion and Families Weekend event. Register for this celebration and more at owltogether.rice.edu.
Alumni Volunteers
Alumni volunteers are needed for the Rice Ring Celebration during Owl Together on Oct. 29! Sign up to take part in this special tradition, network with fellow Owls and even present Rice Rings to students.
Not long ago, you were a student at Rice purchasing your Rice Ring. Celebrate that memory! Post a photo of your ring on social media (Instagram, Twitter and Facebook) using the #RiceRing hashtag, and share your story with us. What does the Rice Ring mean to you? Why is it important to share this special connection with the Rice family? Your photo will be used for promotion of the Rice Ring!
For more information about volunteer opportunities, contact Raymond Arevelo, assistant director of alumni programs.