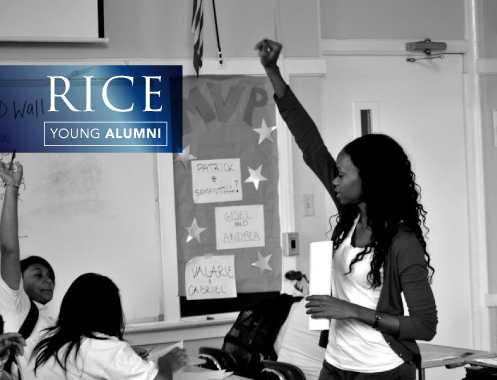 When Rachael Morris '12 was accepted into the Teach for America program during her senior year at Rice, it was a turning point in her life. "Originally, I wanted to go to medical school," she recalls, "but something within me told me my calling was elsewhere."
Two years into teaching, Morris realized it was the career she wanted to do "for the rest of my life." She has now been a teacher for seven years, exclusively at charter schools, including two years at KIPP and five years at Yes Prep.
Morris has found that her passion is making a difference in low-income communities. "Charter schools offer a better alternative to traditional public schools and have the freedom to use more innovative techniques, which is something I love being a part of," she said.
Morris's strength as a teacher is building relationships with all of her students, whether that's working one on one with students in class or staying after school for tutorial sessions. Her dedication in the classroom is paying off. Last year, she was named an "Advanced Teacher," the most prestigious level a teacher can reach in the Yes Prep School District rating system.