With her sights set on the 2024 Paris Olympics, Katherine Wu '23 is currently in Korea training intensively for the US Olympic Trials. Ten years ago, Wu was inspired to pick up her first bow and arrow at 13 years old.
"I got involved in archery — spoiler alert — from the 'Hunger Games,'" Wu said, referring to the story's lead character, Katniss Everdeen, who is an archer. "I'd been saying that archery looked really cool, so my parents finally got me lessons. I had a background in dance and music, and I already had some strength from swimming and endurance from running, so it just suited me really well. I ended up competing right away, and I'm still competing."
As an archer on the USA National Team, comprised of the 18 most promising archers in the country, the McMurtry College senior participated in the Olympic Trials for Tokyo 2020, competes in World Cup Circuits, and is a Pan American archery gold medalist and a 2019-2022 All-American. Wu frequently represents Rice at state, national and international competitions , recently winning first place in the collegiate women category of the 2022 Vegas Shoot, the largest indoor archery tournament in the world with over 3,000 competitors.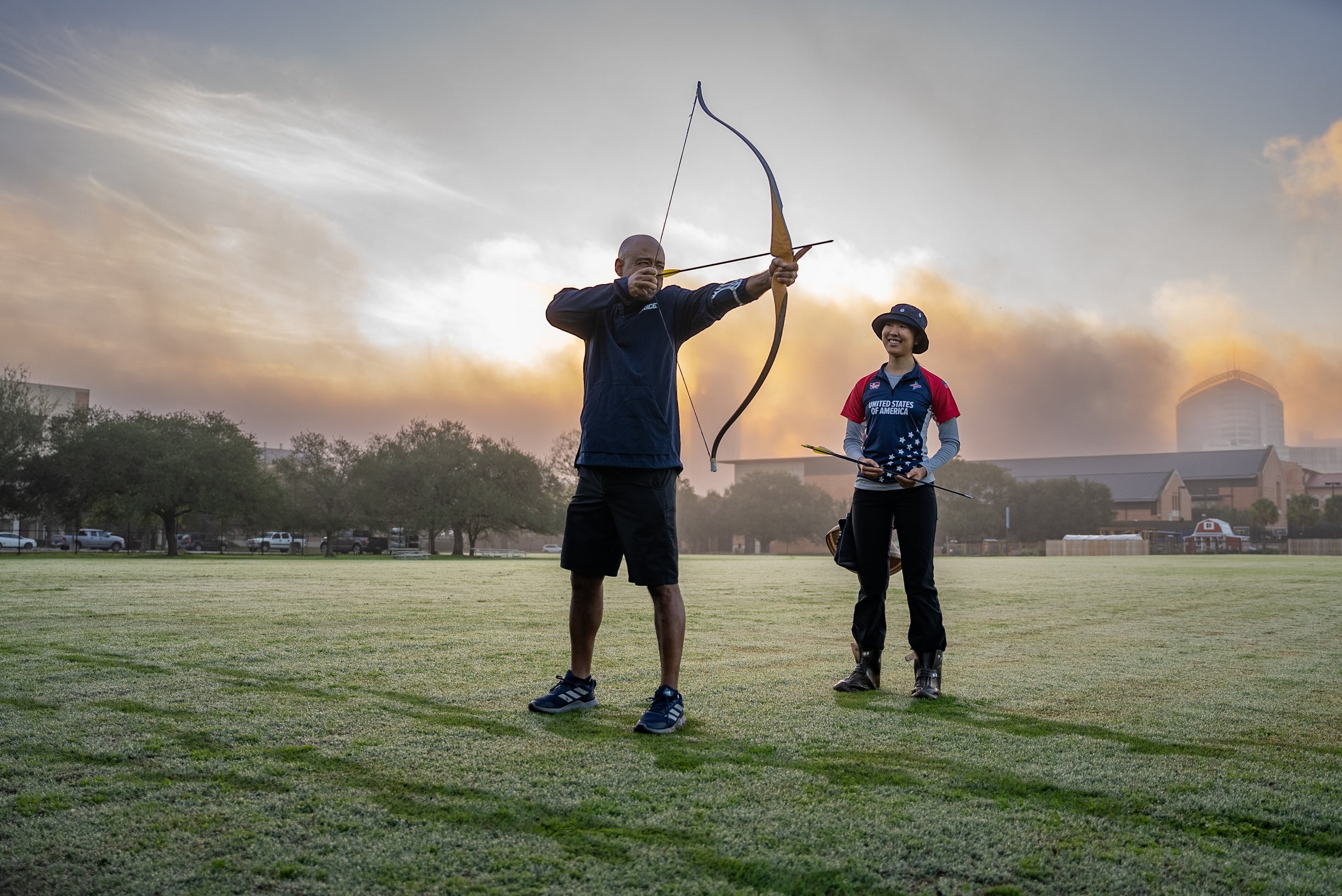 Wu credits Rice for providing resources for her to continue to train while at university. "I would not have had all the opportunities I've had if not for the support of Rice friends and faculty," she said.
She also credits Rice for helping her pursue her passion abroad, first through the Brotzen Fellowship and now through the Zeff Fellowship, which is awarded to one graduating senior for purposeful, independent exploration and travel outside the United States . "I'm so excited to embark on this journey to explore archery techniques around the world."
During her four years at Rice, Wu woke up early every morning to train before class. "It's because I practice so much that I have the ability to be comfortable in competition and perform my best," she said. "There's so much muscle memory involved, and that's why you practice so much. In competition, if you think, then you start to hesitate. For me as a neuroscience major, I like to think a lot, and I like to overanalyze. You learn to trust your body and trust your practice."
As a pre-med and neuroscience major with a medical humanities minor, Wu also incorporates what she learns in the classroom to help her on the field. " A lot of body mechanics are involved in archery, and in my classes, I'm learning about that, too," she said. " Rice goes beyond one-dimensional instruction on a subject matter and teaches how to think critically. This is applicable to any field. You analyze what went wrong and then use problem solving skills to figure out how to solve it."
When Wu isn't in class or practicing archery, she's researching pediatric brain cancer at MD Anderson Cancer Center. "I wanted to have a lot of research opportunities, and fortunately, Rice has been so great with connecting students to those opportunities," Wu said. " The Hu lab has been super welcoming to me. The Texas Medical Center really prizes Rice students."
Beyond archery and academic work, Wu enjoys sharing her other talents with fellow Owls. "I love getting to know other students, and I do that through doing activities with them," Wu said. "I've competed with the Rice Ballroom Dance Club, traveling to different colleges around Texas. I have also danced with BASYK, the hip-hop group on campus. Both opportunities were very fulfilling for me."
Wu also has started two clubs of her own — the Rice Archery Club, stemming from her longtime passion, and the Rice Women's Chess Club, which started with a few friends and grew into a supportive community. "I started these clubs to share passions that I enjoy," Wu said. "So many people have been telling me that they want to try archery or learn chess. I started these clubs so that they would get a chance to try something I love."
Reflecting on her experience at Rice, Wu said she can't imagine attending any other school. "I wake up every day happy that I chose Rice," she said. "Rice has really given me a strong and inclusive community and shaped the person that I am today. Before I came to college, I was quite shy, and Rice brought me out of my shell. The supportive and nurturing atmosphere here has helped me to grow and develop my own identity."