Dear Fellow Owls,
What an honor it has been to serve as the president of the Association of Rice Alumni over the past year. The ARA board's theme focused on invigorating alumni engagement through inclusive leadership. We connected alumni with each other and the university, extended our reach across the domestic and global Rice network, and cultivated cross-campus collaborations.
To receive a fuller picture of what is happening at Rice, we met at and visited different sites on campus — including the Moody Center for the Arts, the Kinder Institute for Urban Research and the Brockman Hall for Opera — and heard from a diverse array of university speakers at our board meetings. At each location, the leaders spoke to us about activities and events at their site. Additionally, as part of our effort to be more inclusive, we welcomed guests from across the university to take part in our ARA Board programming. We invited speakers such as Kathleen Canning, Dean of Humanities; Stefanie Johnson, Director of the Doerr Institute for New Leaders; and Robert T. Ladd '78, Chair of the Rice University Board of Trustees, to our board meetings and roundtable discussions.
To ensure connection with the university, ARA board members attended events across campus, including the Academic Quadrangle redesign preview and the historic investiture of Rice's eighth president, Reginald DesRoches. During the weekend of his momentous inauguration, the ARA hosted an alumni reception, giving alumni an opportunity to visit with President DesRoches. We were ecstatic about the level of interest and engagement demonstrated by alumni. It truly was such an honor to be one of the speakers at the inauguration ceremony to celebrate the official transfer of leadership. Additionally, a number of board members participated in the university's strategic planning process focus group and served on advisory committees and boards across campus.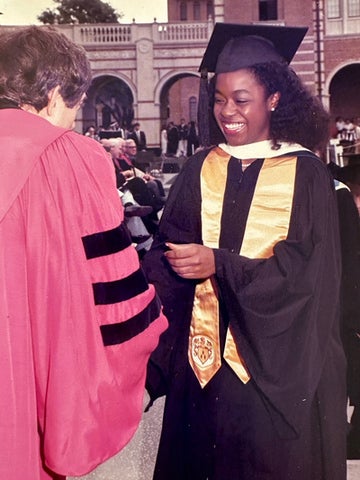 Alumni engagement and outreach was a top priority, and we focused our efforts on providing support for affinity groups such as the Association of Rice University Black Alumni (ARUBA) and the Society of Latino Alumni of Rice (SOLAR). Several board members attended the 50th anniversary of Latinx and Hispanic life at Rice in the fall and the Black Student Association's Black Excellence Gala that occurred in the spring.
We were also lucky enough to extend our reach across the international Rice network. When I attended the 20th anniversary celebration of the Rice Architecture Paris Program last fall, I met two alumni that wanted to start an alumni group in Paris. Now, they have a list of about 40 alumni living in Paris and are looking forward to their second event in collaboration with Rice Global Paris.
It continues to be a passion of mine to connect alumni to each other and to the resources they need to grow and be successful in their individual pursuits and those on behalf of Rice. In that vein, I am looking forward to continuing to serve Rice on the Advisory Board for the Humanities.
I send my best wishes to Tania Min '90 '92, and I look forward to seeing all that she accomplishes as this year's ARA president.
Sincerely,
Toya Cirica Bell '87
Immediate Past President, Association of Rice Alumni
---
Dear Fellow Alumni,
I am beyond humbled to serve as president of the Association of Rice Alumni (ARA) this year. Toya Cirica Bell '87, our past president, successfully guided the ARA through a productive year, and I'm grateful for her insight.
I look forward to working alongside our president-elect, David Mansouri '07, as well as our new board members: Theodore Adams '86, Rushi Bhalani '19, Carlos Linares-Garcia '00, Jamila Mensah '00, Joe Savery '13, Anna Christy Stepp '98 and Sarika Tyagi '11. Together, your ARA Board and the Office of Alumni Relations will continue to work to strengthen our alumni communities and experiences.
I hope to connect with many of you during Alumni Weekend 2023 on Nov. 3-4, when Owls will return to campus to celebrate "No Place Like Rice." Alumni Weekend, which incorporates homecoming and reunion activities, is the most opportune time to visit our alma mater and reconnect with classmates. Keep an eye out for more details.
I recently read an article about the phenomenon of Asian American women of a certain generation being named Connie, for the single, visible Asian American woman of that time — Connie Chung. I was movingly reminded yet again of how important community is and the many ways in which identity within that community are formed; I am thankful that Rice sees and celebrates all within our alumni community. I came to Rice as an architecture student on a Pell Grant and the child of immigrants. At Rice, I found inspiring professors, graduate students, upperclassmen and friends who saw me, who were similarly driven and who were so fascinating and funny. I am personally so grateful to have had this gift and to be able to call myself a Rice Alumni, and I know that many other alumni are similarly grateful.
Our gifted, vast and varied Rice alumni community is invested in the continuing excellence of our university and in bettering our cities, countries and our world. Our ARA leaders and alumni relations staff are invested in connecting with you and providing an enriching alumni experience. Join a regional group, volunteer on campus, organize and/or attend an in-person or virtual gathering — participate in ways that are meaningful for you and your current circumstances. In turn, let us know how best to support your efforts to strengthen our alumni community for all. Feel free to message me at tania_min_rice90 on Instagram or at alumni@rice.edu.
Sincerely,
Tania Min '90, '92
President, Association of Rice Alumni