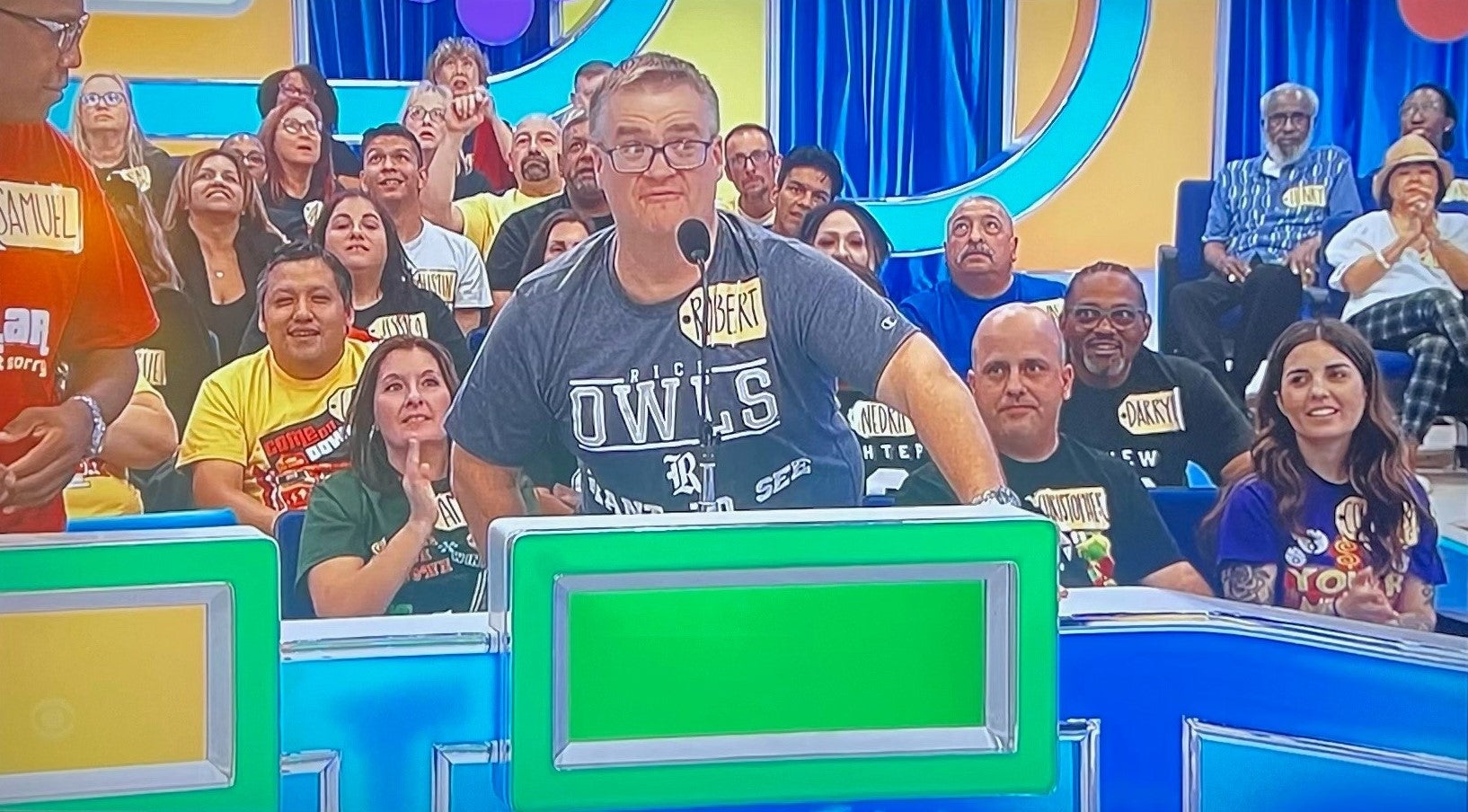 As a child, Robert Lundin '00 loved to watch "The Price is Right," never imagining he would one day wind up on the iconic game show himself. Thanks to a longstanding tradition of visiting the show with his fellow Owls, Lundin heard the magic words "Come on down!" this past August.
"Like most things at Rice, you get there and find that so many things you thought were quirky about yourself are shared by many of the people around you," Lundin said. "I got to Rice and found people who were just as obsessed as I was with 'The Price is Right,' and it just became a shared understanding that one day we'd go on it."
Since their senior year at Rice, Lundin and his friends have made the journey to "The Price is Right" studios, formerly in Television City and now in Glendale, California. "A group of us from Wiess College decided we were going to have the New Years of a lifetime because we thought Y2k was going to kill us all anyway," Lundin said. "We celebrated New Year's Day in Vegas and then went to LA thinking since we were college students, we'd have a good shot at making it onto the show. Well, more charismatic college students got picked, but the tradition stayed with us. With various friends and family members, the pilgrimage has become tradition that has lasted for over two decades."
The yearly trip was put on hold during the coronavirus pandemic, but this year, Lundin was able to resume the trek to the show. Although his friends were unable to make the journey, he made sure to represent their beloved alma mater. "I was very fortunate I was wearing my Rice Owls t-shirt at the time," he said. "I'm convinced that was what made the difference in getting me on the show. It was nice to be able to wear the blue and gray of Rice on national television. You only get a minute or so to capture the producers' attention. When they asked me what I do in my spare time, I mentioned that I mentor Rice students as a community associate at Duncan College, and I think they were intrigued by that."
Once in the studio, Lundin was thrilled to hear his name called down to Contestants' Row. "When they start calling people, they also have a guy on stage with a large poster with your name on it, so you know you're being called because the show is very loud. I was on cloud nine," he said. "I got called down toward the second half of the show. I had two chances to get up on stage. The first one was bidding on jewelry. My mother will kill me — she's a jeweler. I was way, way off. The second I was about $10 off where I needed to be. I was very close. But I was so excited to have the experience."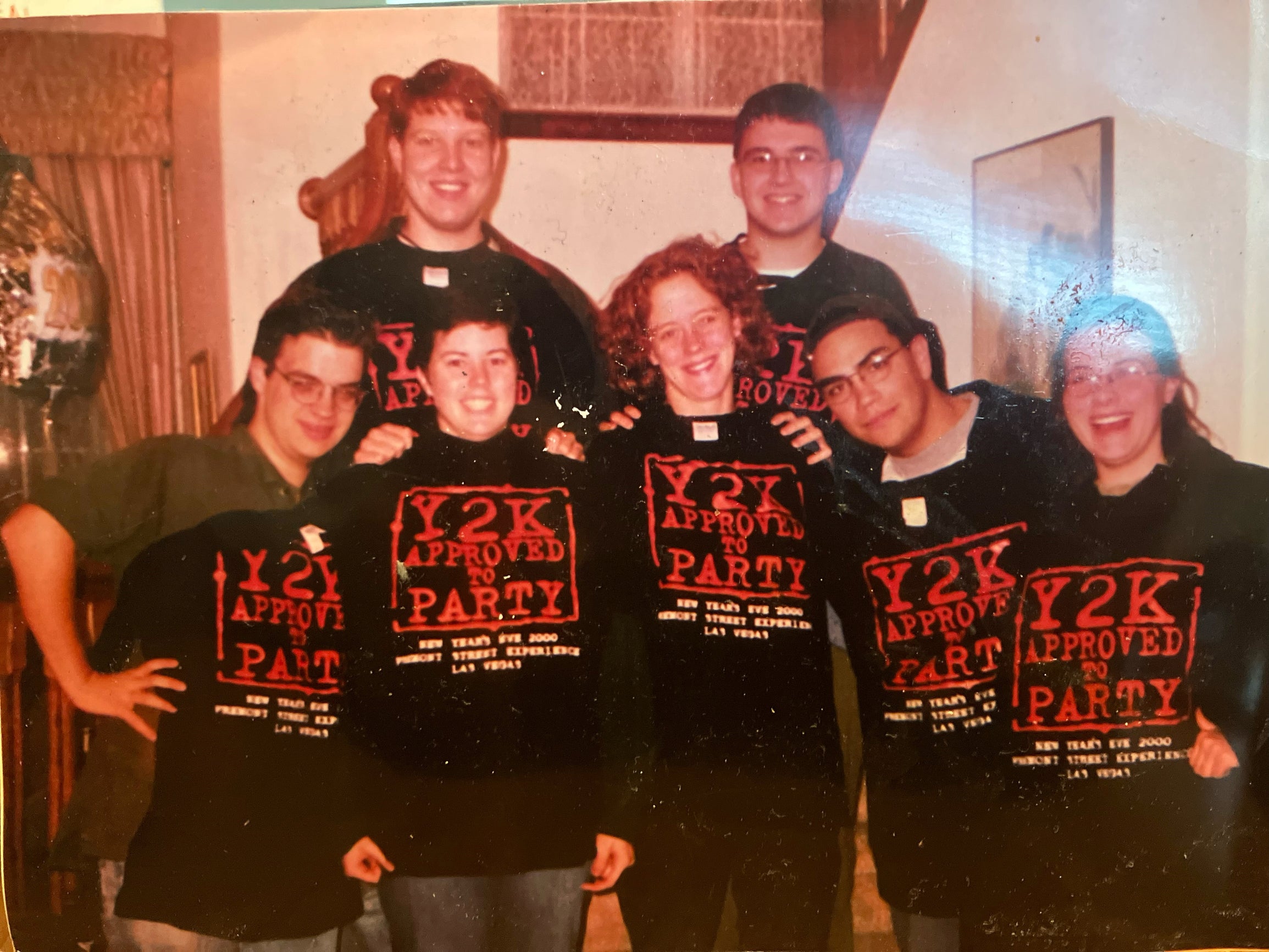 According to Lundin, his friends and fellow Owls were ecstatic upon learning that he made it into Contestants' Row. "They were so excited and utterly supportive — one of the many reasons why Rice is special and unique and truly a blessing to be a part of."
Lundin said the tradition is emblematic of what it means to be an Owl. "There is a reason why I have stayed as involved with Rice as I have over the years," he said. "I feel incredibly blessed that I ended up at a place where everything just seemed to fit and with people who have become my closest friends in the world. We understand each other completely, from our personal lives to what drives us in our careers. These are people who understand why it's a big deal for me to appear on Contestants' Row and bid on some luggage. It's just another testament to why Rice is so important and special to me."
Although Lundin ultimately did not win the showcase showdown, he found the prize of a lifetime at Rice — friendship. "If you had told me as a 17-year-old that I would end up at an institution with a supportive community that was also intellectually challenging and inspiring, I would say point me to this magical place," he said. "I believe in the power of the community of students, faculty and support staff who believe in something bigger than themselves. Having worked in education for my entire career and worked with universities across the country, that is not the norm. What we have here is incredibly special."
Since graduating from Rice, Lundin's service to the university has been extensive. He has served as a community associate for more than 20 years for both Duncan and Wiess Colleges, twice winning community associate of the year. Additionally, Lundin taught at Rice as a faculty member and has served on the Association of Rice Alumni board for over two years.
Lundin considers his time at Rice as a gift. "Rice ended up being the lynchpin of my life," he said. "There is a reason why my license plates are Rice alumni license plates and why I've come back in different ways to engage and contribute. Rice establishes bonds amongst people through shared experiences and values that hold long past the years within the hedges. I feel very blessed."