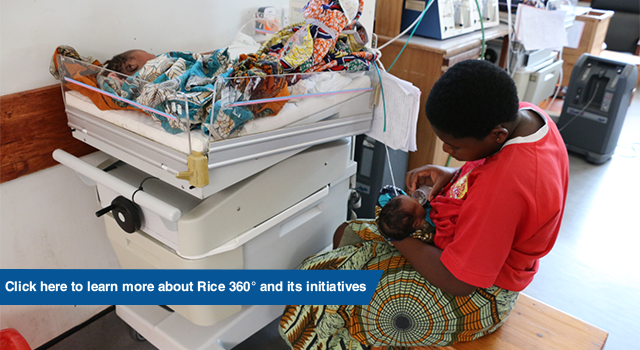 The goal of the Rice Alumni in Medicine (RAM) alumni group is to serve as a platform for collaboration between health care alumni, the medical community and Rice University students. RAM members facilitate this goal through student support, mentorship opportunities, lifelong learning and professional networking.
Give Back to RAM
You can make a donation directly to RAM, which helps fund study materials for pre-med students, the annual RAM Pinning Ceremony, regional networking events, social programming and other events and programs. To contribute, please visit giving.rice.edu and indicate that your gift should go to "Rice Alumni in Medicine (RAM): G84061-057000" in the special instructions field of the giving form.
Engage with RAM
RAM proudly supports many educational programs. Consider volunteering your talent to help RAM support the Rice pre-med students through the following programs:
Big Owls/Little Owls (BOP) program offered by the Rice Pre-Medical Society. Contact rpms@rice.edu to learn more.
RAM Pinning Ceremony: During this event, we recognize all Rice students accepted into medical school where they receive the RAM pin. Also at the event, RAM presents scholarships to students exemplifying 'Excellence in Leadership' and 'Excellence in Medical Research.' This event is generally hosted the Thursday prior to commencement.
Regional Social and Networking Events: RAM hosts meet ups in a variety of cities. Recent locations have included Houston, Dallas, San Antonio, San Francisco, Los Angeles, Boston, New York, and Chicago. If you are interested in hosting a meet up, please contact Desiree Hopping at dthopping@gmail.com.
MCAT study materials for pre-med students are provided by RAM to the Office of Academic Advising.
Mock interviews for pre-med students to assist with the medical school application process. To learn more and volunteer, contact Desiree Hopping at dthopping@gmail.com.
Rice Health Fairs: RAM will begin having a presence at Rice-sponsored health fairs.
A key priority for RAM is helping to connect alumni who work in health care and medicine with current students. Alumni are encouraged to participate in mock interviews and the RAM mentorship program. To learn more about these initiatives, email Ishmeal Bradley '03, chair of mentoring programs, at ish2@rocketmail.com.
Volunteer Leadership
Members of RAM governance typically hold two-year terms. There is an annual business meeting each calendar year to discuss leadership transitions. We also fill empty positions on a rolling basis. We welcome anyone interested in joining the leadership team to contact us throughout the year.
President: Ishmeal Bradley '03
Past President: Desiree Tyer Hopping '77
Secretary/Treasurer: Eileen Brewer '67
Chair of Alumni Engagement and Outreach: Alison Wiesenthal '01
Chair of Student Engagement Committee: Dania Daye '07
At-Large Board Members: John Abikhaled '88, Tara Barry '10, Frank Buttacavoli '05, Edward Dominguez '82, Eniola Fagbongbe '11, Teresa Fu '06, Michael Gonzalez '93, Daniel Heller '00, Anudeep Jain '85, Damion Kistler '70, Caron Murchison '81, Karen Nunez-Wallace '03, Andrew Phillips '06, Melissa Tonn '82, Laura Torres '83
Connect with RAM
RAM at sallyportal.org
RAM Facebook
RAM LinkedIn
RAM Twitter