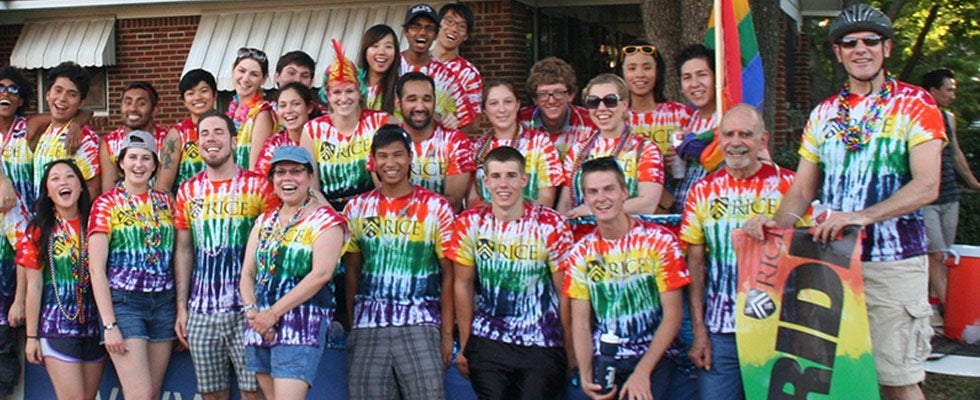 Rice Alumni Pride (RAP) is Rice's unified group for all gender and sexually diverse alumni and allies, including lesbian, gay, bisexual, transgender, queer, and intersex alumni. RAP supports and promotes the interests of Rice University and its alumni with an emphasis on issues specific to the LGBTQIA community. Membership is open to Rice alumni and ally friends.
RAP hosts a variety of events throughout the year, including:
Networking programs with other universities and LGBTQIA groups.
Houston Pride Parade float.
Happy hours and mixers.
Professional development programs and panel presentations.
Award presentation and social during Rice Homecoming and Reunion.
Give Back to RAP
You can make a donation directly to RAP, which helps fund career panels, speakers and receptions; special projects like the Rice Houston Pride Parade float, and other events and programs. To contribute, please visit giving.rice.edu and indicate that your gift should go to "Rice Alumni Pride G84038-057000-52100" in the special instructions field of the giving form.
Please consider making a donation to the Rice Alumni Pride Student Award, which provides school funding to outstanding current students who have made a significant contribution to the LGBT community by visiting giving.rice.edu and indicating that your gift should go to "E21770 RGLAA Endowed Award" in the special instructions field of the giving form.
Volunteer Leadership
Members of RAP governance typically hold two-year terms. There is an annual business meeting in the last quarter of each calendar year to discuss leadership transitions. Prior to that meeting, we issue a call inviting those who are interested in open positions to learn more about joining the board. We also fill empty positions on a rolling basis. We welcome anyone interested in joining the leadership team to contact us throughout the year.
Board Chair: Victor Brooks '09
Awards Representatives: Corey Devine '03 and Kendall Toarmina '10
Student Outreach Representative: Matthew Patterson '07
Homecoming Representative: Claudia Leon '15
Pride Parade Representative: Tamara Siler '86 and Rebecca Loftis '15
At-large Representatives: Brandon Mack '06
LGBT History at Rice
RAP sponsored a discussion in spring 2017 about the growth and development of the LGBT community at Rice, including a historical overview, first-person accounts of campus experiences and a look at recent advances and efforts on campus. The talk featured Annise Parker '78 and Brian Riedel '05.
Connect with RAP
RAP on Facebook