Alumni Tent at Beer Bike
The 65th Annual Beer Bike will be held on Saturday, April 2! Celebrate one of Rice University's most beloved, unique traditions with friends and fellow Owls of all ages. Cheer on alumni and students to victory, and fuel your fun with all-you-can-enjoy breakfast tacos, mimosas, pizza, beer and cider. DJ Chaney '13 also joins us to turn this tailgate into a party!

Saturday, April 2
Greenbriar lot outside of Rice Stadium
9 a.m. to 2 p.m.
Pricing: $15 Online; $20 Walk Up

Online registration ends March 29.
Please note: Event details are subject to change in accordance with local health guidelines.
---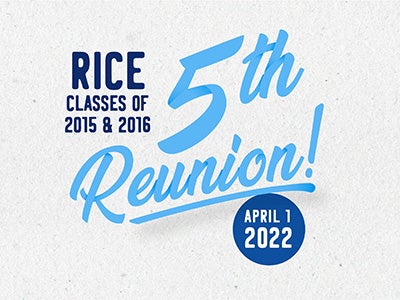 Classes of 2015 & 2016
Register for the Alumni Tent at Beer Bike as part of your 5th Reunion Celebration.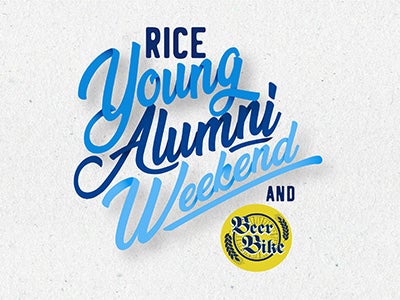 Classes of 2011-2021
Register for Beer Bike as part of Rice's inaugural Young Alumni Weekend.
---
The "Beer" Necessities
Use these tipsy tips and tricks to make the best Beer Bike experience.
Texas is hot in the spring! Please remember to hydrate. Water will be provided at the Alumni Tent. If you're feeling overheated, find a shaded area. EMS is located near the track if needed.
Beer will be served at the Alumni Tent. Please drink responsibly.

Frequently Asked Questions
Is parking available on campus?

Yes, parking is available on campus. The best spots for Beer Bike would be the South Stadium and West Lots. Please visit parking.rice.edu/visitor for information regarding parking rates and facilities for visitors.

Will I need to wear a face covering?

In accordance with Rice University policies, face coverings are not required for outdoor events.

Are children allowed to attend?

Children are welcome to attend, but please keep in mind the Beer Bike environment.

Will there be a ticket discount for designated drivers?

There is no ticket discount for individuals who choose not to drink alcohol.

What do I need to bring?

Please bring a government-issued ID (driver's license or passport).

Will you accept Apple Pay or Venmo at any events during the weekend?

No, we are not able to accept payments using Apple Pay or Venmo. Credit and debit payments only.

Beer Bike 2021 at Rice University

About the Tradition
Since the beginning, Rice's residential colleges have been a source of student creativity, pride and fun, while uniting alumni around the world in shared tradition and community. And for decades, the highly anticipated Beer Bike competition has exemplified this unique college spirit for alumni and students alike. The Association of Rice Alumni is proud to welcome the Rice community to the Alumni Tent in celebration of this favorite tradition!