Judge Jason Luong '97 is the elected Judge for the 185th District Court, making him the first Vietnamese American and first Asian American elected as a criminal district court judge in Harris County and in Texas. Judge Luong is also the Presiding Judge of Harris County's Felony Veterans Treatment Court, a specialty court that helps veterans suffering from service-connected PTSD, traumatic brain injury or addiction issues who have serious felony cases pending in Harris County. Luong credits Rice for giving him the solid academic and ethical foundation he needed to serve effectively as a district court judge. We spoke to Judge Luong recently about his career and how Rice prepared him for success.
Q: When you were applying for colleges, what made you consider Rice?
A: Rice was always my first choice because Rice was consistently identified by the U.S. News and World Report College Guide as one of the best values in college education and as a university with the highest academics. I came from a middle-class working family, so affordability was also important to me. Rice was a great combination of top-flight academics and affordability. Plus, I grew up in Houston, and Rice gave me the opportunity to get a first-class education while staying in my hometown.
Q: Tell me about your Rice experience. What was your favorite thing about Rice while you were here?
A: For me, my favorite part of the Rice experience was meeting people from across the country with different life experiences. I think two common traits common to all Rice students are inquisitiveness and kindness. At Rice, you meet people who have the same desire to learn and the same goals of making the world a better place.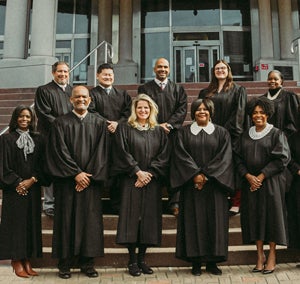 Q: How did you become a judge in Harris County?
A: After law school, I had the honor of serving as a law clerk to a U.S. district court judge. I then had the opportunity to work at two of the best law firms in Texas doing civil litigation. But I decided to leave my civil practice to accept a position as an assistant district attorney with the Harris County District Attorney's Office. As a prosecutor, I handled everything from DWI to assault cases, drug cases to murder. In fact, I handled the State's prosecution of three white supremacists under Texas's hate crime statute—one of the only times a person has been charged in Harris County under the State's hate crime. Those cases were eventually prosecuted under the federal hate crime statute by the U.S. Department of Justice.
I then became a criminal defense lawyer and served as a board member for the Harris County Criminal Lawyers Association, which is one of the largest and most important criminal bar associations in the country. In 2018, I was elected as a criminal district court judge for the 185th District Court, which was special to me because I was assigned as a prosecutor to the 185th District Court when I worked in the DA's office. I was sworn in on January 1, 2019, becoming the first Vietnamese American and first Asian American ever elected to a criminal district court bench in Texas and Harris County.
Q: What kind of work goes on in your court?
A: Our court has jurisdiction over felony criminal cases in Harris County, Texas, which means we handle charges including felony DWI, assault cases involving serious bodily injury or a deadly weapon, felony drug cases, murder and capital murder. We have court daily and might handle upwards of seventy criminal cases a day. Twice a month, I also preside over Harris County's Felony Veterans Treatment Court. This was a specialty court statutorily created to help veterans who suffer from service-connected post-traumatic stress disorder, traumatic brain injuries or addiction issues and who face serious felony charges. Veterans Treatment Court diverts these veterans from prison to comprehensive mental health and substance abuse treatment through the VA. I handle this docket in addition to my regular criminal court docket. My wife is a Marine Corps veteran, and our family has always been active in the veteran community. It has been my greatest honor to preside over this docket and help our veterans.
Q: You must have seen some pretty interesting cases during your term as judge. Tell me about a case or a situation that surprised you or maybe changed your perspective.
A: The way the court operates is very different from what you see on television or read about in the newspapers. Jurors really listen to the evidence and apply their common sense to the facts that they hear. One of the geniuses of our Constitution is the right to a trial by jury. The other surprising aspect is the role that mental health has in the criminal justice system. A significant number of persons charged with an offense have a diagnosed mental health issue. I have learned how much we judges can help these people whether it is by connecting them with mental health services or substance abuse treatment, even while their cases are pending. This can have a significant effect on their lives.
Q: How did the pandemic affect the way the court operated?
A: We had back-to-back crises in our criminal court system. First, Hurricane Harvey shut down the criminal courthouse for three years because of the extent of damage to the building. So, we were sharing courtrooms in the civil courthouse with limited space. COVID also shut down the courts and jury trials and caused a backlog of cases.
But the pandemic forced us to use technology to make court courts more accessible and more efficient for the public. Rather than having people come down to the court every day, waiting around and crowding our courtrooms, we now have people appearing on Zoom. Plus, we live stream our court proceedings every day so that anyone with a computer can watch what we do in our court. Our courts are very transparent — completely open to the public and serving the needs of everyone.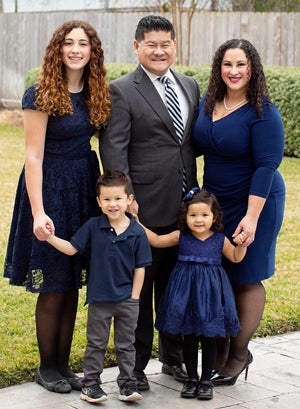 Q: How did your education and experiences at Rice prepare you for your career?
A: Rice gave me a great liberal arts education and taught me to think about things on multiple levels and to be very conscious about the "human" aspect of the law. There are many aspects of criminal law to consider as a judge when you are applying the law. Rice made me a good critical thinker and a good writer, which are skills you need to be a good and effective judge. As a judge, you have to consider your rulings and be able to explain those rulings in a way lawyers and laypersons can understand what that ruling is and how the law is being applied.
Q: What have you discovered about yourself during this journey? For instance, how does it make you feel to be the first Vietnamese American criminal district court judge in Harris County and in the State of Texas?
A: It took time for me to appreciate that I was a judge. For the first year, I focused on learning how to be a good judge, and I did not have time to appreciate the significance of what my election meant. But over the past three years, I have had a chance to see the positive impact I can make as a judge in our community and see the excitement from our Asian American community at having a member of their community on the bench.
I believe that I have had a positive impact as a judge and that I have reflected my Rice education positively as a judge. My three-year old daughter says that when she grows up, she wants to be a judge like her dad. I hope that my election as a district court judge paves the way for her, for other Asian Americans and other minorities to be elected to judicial office.
Share your own story of life beyond the hedges by emailing alumni@rice.edu.