Inside the hedges of Rice University, an accepting campus culture permeates, fostering an ingrained sense of belonging – no matter your interest.
Fifty years ago, John "Grungy" Gladu quickly found his niche within the Marching Owl Band. If Gladu had to describe the band in one word, it would be "nontraditional."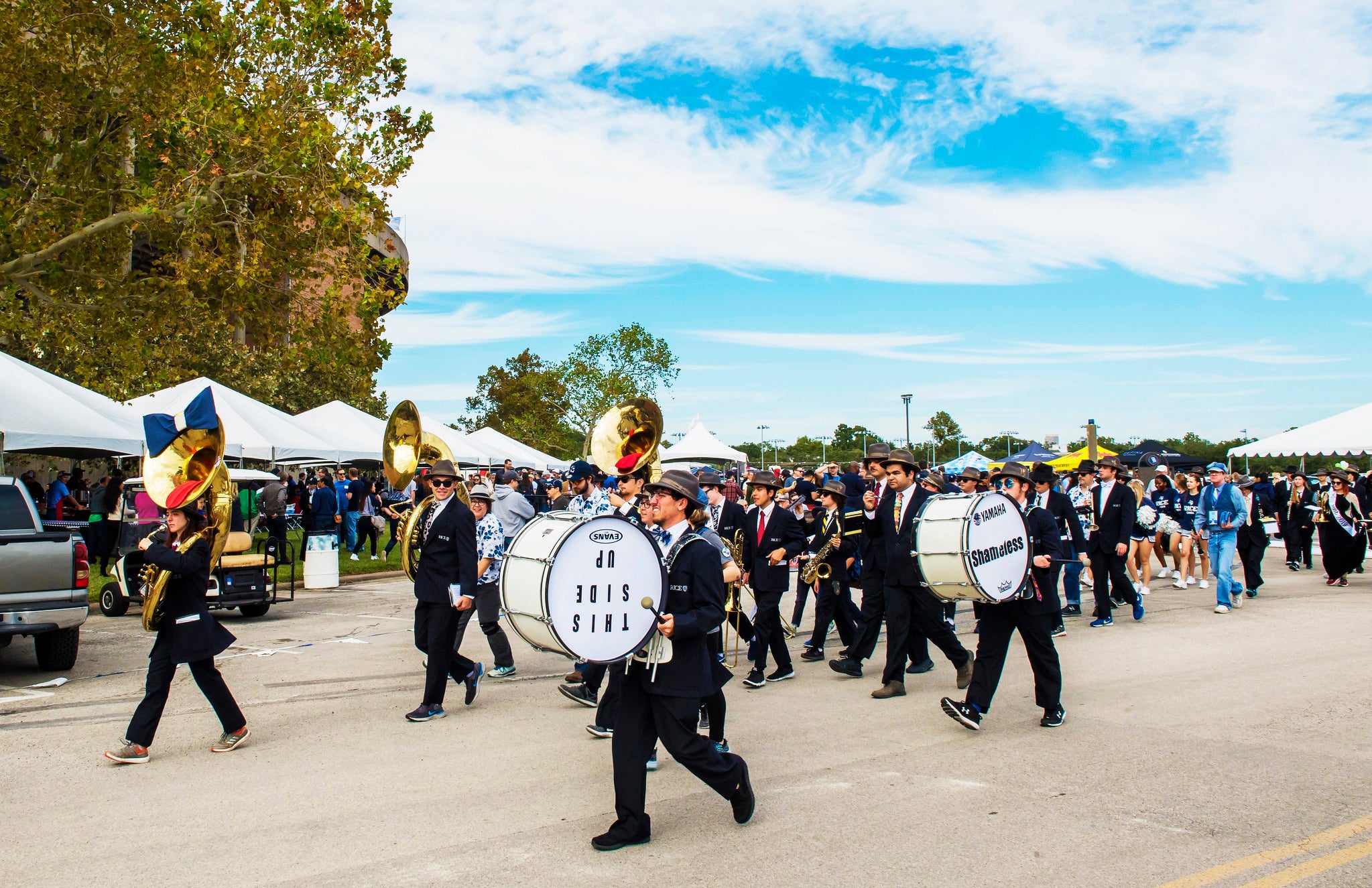 It is the marching band that does not, in fact, march. It consists of students from across Rice, as well as alumni and community members, all of whom play a variety of instruments, or maybe none at all. It's the Blues-Brothers-inspired, un-self-serious, extremely tight-knit family known affectionately as the MOB.
For many years, the MOB has played classic rock and contemporary pop tunes in pinstriped three-piece suits, ties, sunglasses and fedoras. They also have entertained — and sometimes unnerved — fans and opposing teams through satirical football halftime shows, often spoofing current events through gags and skits. Try to take them seriously, and the laugh is on you. This is, after all, the band whose upside down is always "this side up."
This unconventionality has suited Gladu perfectly. In September of 1973, Gladu was a freshman music major at Houston Baptist University. HBU band director, Robert Linder, told his class to head to Rice if they missed participating in marching band. "So, I went that day and basically haven't left," Gladu reminisces.
Historically, the roots of the MOB originate in the Rice Owl Band, formed in 1916 by a group of students. Breaking with tradition in the 1970s, the band began introducing the parodying entertainment it is known for today and gradually stopped marching, embracing "scattering" techniques instead. A decade later, the band was rebranded as the Marching Owl Band, and the uniforms were updated to suit, playing to the "mob" angle of the band's acronym.
During Gladu's time in the MOB, he has worn many hats — literally, as he has participated in the MOB's many uniform changes. Gladu has served as trumpeter, librarian, script coordinator, photographer, announcer, driver, archivist, historian, and as he refers to himself, the band's crazy uncle.
Although Gladu never attended Rice as a student, the school has impacted his life profoundly, both personally and professionally.
"The vast majority of my associations, acquaintances and friends are people from Rice," he says. "I got both of my major careers from people I knew at Rice. The MOB is family. I see the current kids as the face of a caterpillar-like segmented body of the past people who played those instruments."
As of 2017, Gladu's presence at Rice is cemented in history with the name of the band hall — the John "Grungy" Gladu Band Hall.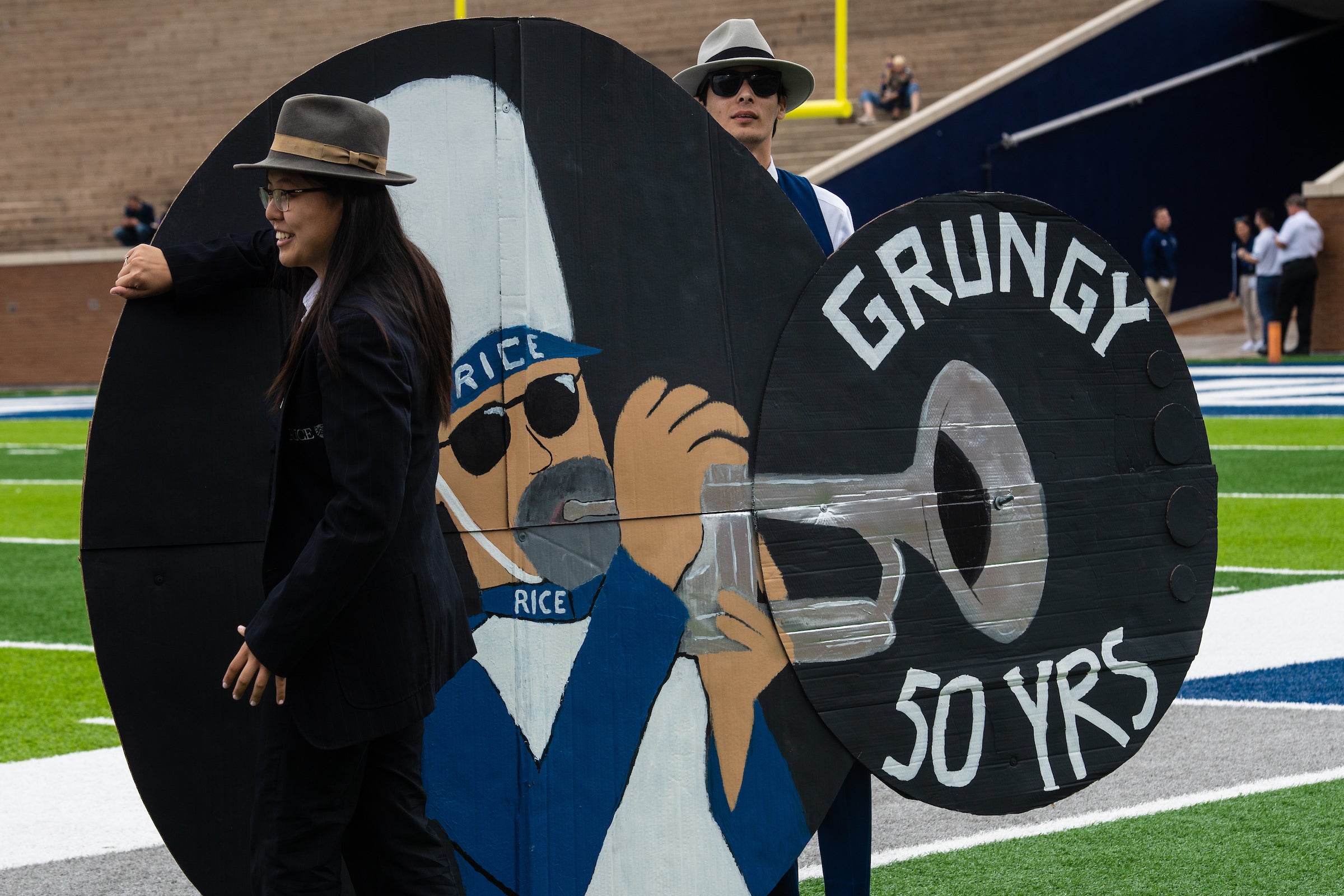 Like Gladu, fellow MOBster David Gutierrez '84 has found long-lasting community in the group. For Gutierrez, who has been playing tuba in the MOB since he matriculated in 1975, the band is more than a musical hub, it's a social center.
"It's my family," he says. "I've met three thousand something people in this group, and I'm still hanging out with them. By far, the largest percentage of friends that I've had, and still have are MOB people. It's kept me sane through a lot."
Not only is the MOB a unique part of the campus tapestry, but its presence is woven throughout the Rice and Houston communities, something Chuck Throckmorton, Rice director of bands who has led the MOB since 2002, finds gratifying.
"Whenever we go out, someone comes up and has a story of a memory of the MOB in their lives in Houston from forever ago," he says. "In the rest of the city, they recognize that what these students are doing is amazing and creative."
The unconventional makeup of the band adds to its allure, Throckmorton says.
"I tell people my band are rocket scientists," he remarks. "Almost all other college bands are teaching laboratories, and that's not the case here. A band anywhere takes on what its community needs. We're able to concentrate on entertaining the audience when football is not happening — and entertaining ourselves at all times."
What stood out to Throckmorton when he first arrived at Rice was how many alumni, like Gutierrez, were involved with the band.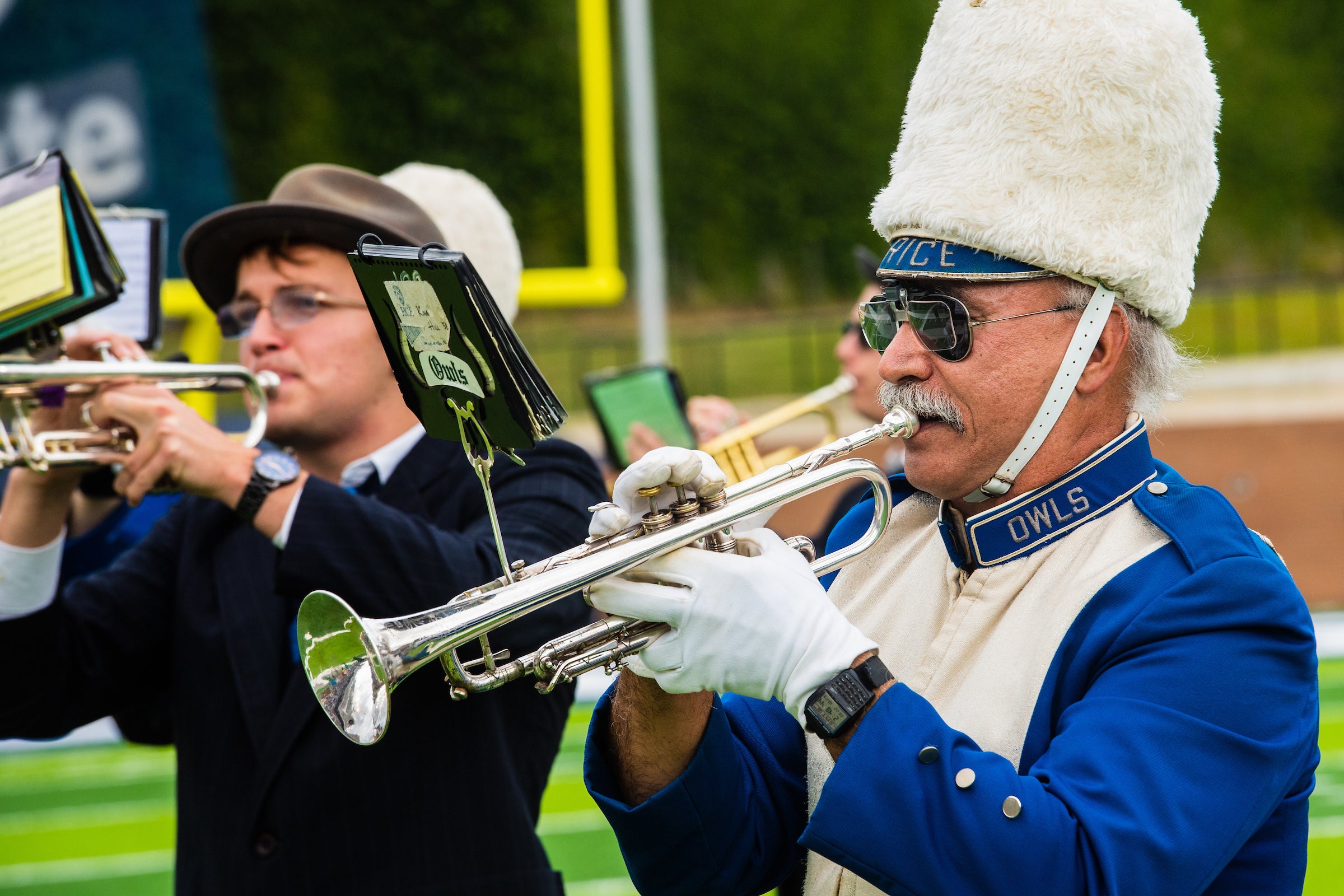 "I came in and saw the way the community worked," he recalls. "I thought what an idea that you're majoring in something as a college student, and then could go and speak with someone making a living doing that, and they want to talk to you because they're in the same band as you. I have always wanted to keep that as the way we do things. It's so enriching."
Throckmorton's love for the MOB is for more than its musicality and storytelling genius, but for its most powerful chord – the one of community.
"Twenty-one years after starting at Rice, and I'm still the guy who walks out of my office with this big grin of 'Can you believe that I work here? This is so great,'" he exclaims.
To the diverse members that call the MOB home, the band is so much more than its halftime performances – it's family.