Year-round and worldwide, the Office of Alumni Relations has one simple goal: to keep you connected to Rice. Our team is responsible for organizing in-person and virtual events, engaging with long-distance Owls around the globe, enriching Rice's spirit of lifelong learning and so much more to ensure your relationship with the Rice community extends far beyond the hedges. Meet each team member to hear what they enjoy most about fostering close-knit community for Owls everywhere. Check back later to meet more members of our team!
---
Amanda Martindale


Associate Director, Alumni Networks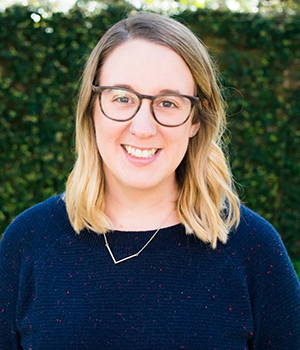 Focus area:
Alumni Networks: Affinity groups and regional groups in the western states
What do you think makes the global Rice community special?
The numbers are relatively small, but they are mighty. So many of our regional and affinity groups are close knit and excited to spend time together. There could be 5 alumni or 50 together and they're just happy to connect with one another. It's so fun to be a part of!
Most memorable part of your time at Rice so far?
So many memories come to mind! I'd say the most recent and impactful one was Owl Together in 2021. It was nice to see alumni back on campus and getting to enjoy being around each other again.
Hobbies/interests:
I am definitely a homebody who enjoys the opportunity to curl up with a good thriller book and my dog, Ellen.
---
Shannon Burnett


Assistant Director, Alumni Programs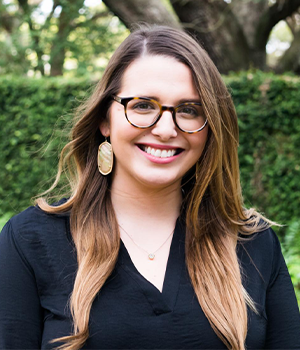 Focus area:
I have two unique focus areas within Alumni Relations. The first is the Traveling Owls, our alumni travel program, where I get to connect Rice alumni to educational experiences around the world. The second is Owl Together, which combines our Families Weekend and Homecoming and Reunion efforts to help bring all of the Rice community and campus together to celebrate tradition.
What do you think makes the global Rice community special?
I've worked at and for several universities before landing at Rice so when I say this community is special, I truly mean it. The people in this community want everyone in the community to succeed and continue to hold people accountable, push one another to grow and support together. The best part is they know how to laugh and have a good time.
Most memorable part of your time at Rice so far?
My most memorable moment so far was attending Rice Ring Celebration at Owl Together 2021. This was President Leebron's last Rice Ring Celebration and it was extra special because his family was there honoring his daughter as well. The emotion he had when he spoke to the seniors and their families made me feel so connected to the Rice community and understand how truly special it is.
Hobbies/interests:
I'm a new homeowner, so I love doing DIY projects around the house. I'm also a new mom so my son keeps me plenty busy with all of his energy and laughs and I love seeing the world through his eyes.
---
Kate Coley '11


Associate Director, Alumni Programs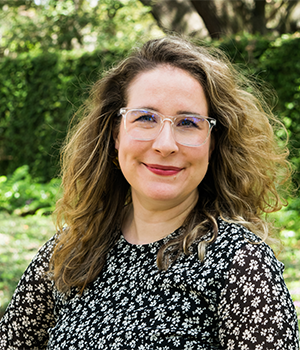 Focus area:
I am lucky enough to be in charge of digital education and lifelong learning, which means a lot of my job is talking to fascinating and brilliant people within the Rice community. A big part of that is letting the Rice alumni base know that their Rice education continues long after graduation by providing things like faculty-led lectures, classes and even a podcast called "Beyond the Hedges."
What do you think makes the global Rice community special?
A story that the previous Association of Rice Alumni Board chair Bryan Hassin '01 '02 told us once comes to mind. He was riding a train somewhere in Europe (sorry I don't remember, Bryan!) and there were randomly two other Rice alumni on the train. They all recognized each other by their Rice rings and immediately formed a small group on the train to share Rice experiences. I love that about Rice people; there really is a built-in community wherever you are in the world.
Most memorable part of your time at Rice so far?
Honestly, just having the opportunity to return as an alum has been amazing. Experiencing Rice on this side of things has been so eye-opening, and it's heartening to see how much Rice really cares about its alumni base. Other than that, golf cart joy rides around the inner loop are always a fun perk!
Hobbies/interests:
Ooph, this is a tough one during a pandemic! I watch a lot of true crime documentaries, listen to podcasts, and love trying out new recipes with my Instant Pot.
---
Paige Bahnsen


Assistant Director, Alumni Regional Outreach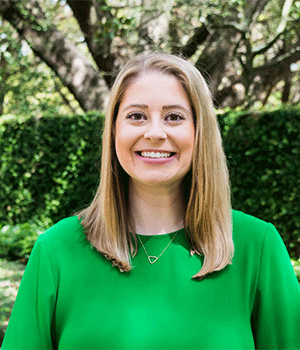 Focus area:
Central Region (includes DFW/ north Texas regions)
What do you think makes the global Rice community special?
Their commitment to and pride in each fellow Owl. The Rice community is one that challenges one another to reach higher and think bigger — to use their talents, skills and passions to strengthen themselves, the community, the university and the world.
Most memorable part of your time at Rice so far?
For Owl Together 2020, we had to record a pep rally with Sammy the Owl, the Mob, the cheerleaders and the dance team in front of the Sallyport. It was so much fun to see the students finally get to perform their routines in person after COVID prevented them from doing so. Also, knowing that their friends and families would have the opportunity to watch them perform made it that much better. It was raining and the day seemed to go on forever but it was one of the best times I have had at Rice.
Hobbies/interests:
I am the BIGGEST sports nerd. I received my undergraduate degree and master's degree in sport business and entertainment management. My schedule and vacations are always planned around a football game, a tennis match, a golf tournament, a baseball game, etc. Other than that, you can catch me trying a new restaurant, ordering a Diet Coke, outside running, shopping or back at my parents' house in Wharton, Texas!
---
April Cole


Director, Alumni Programs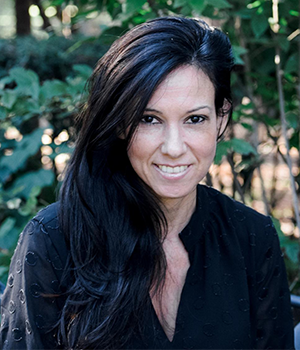 Focus area:
As director of the alumni programs team, I provide leadership and oversight for the areas of student engagement, online mentoring (Sallyportal), digital education, lifelong learning, Traveling Owls, young alumni programs, Homecoming & Reunion and Parents & Families Weekend. I also head up our Alumni Relations Office metrics initiative and Engaging Lost Owls Task Force with the Association of Rice Alumni board.
Most memorable part of your time at Rice so far?
Commencement time is always very special to me, getting to see all the hard work and sacrifice culminate into a significant moment of pride and gratitude. I love welcoming students into the alumni family, knowing their journey doesn't end at graduation but in some ways just begins. I also really enjoy hearing alumni share stories about their time on campus and reminisce — I find myself learning something new about Rice each time!
What is one thing you wish people knew about the Office of Alumni Relations?
The word alumni is derived from a word that means to nourish and alma mater essentially means nourishing mother. My philosophy is that an institution's relationship to an alumnus is one of nourishment — intellectual, personal and educational. The DNA of an alumni relations office and its team of professionals — the part we play in the great ecosystem of higher education — is one of nourishment. It's one of support. We fuel, we motivate, we care for, we listen, we hear, we create, we engage — we build community. The work of the Alumni Relations team is vital, and I would like people to know that our fantastic group of committed, dedicated professionals work very hard, especially behind the scenes, to fulfill this great mission.
Hobbies/interests:
I am currently pursuing a Ph.D. in the Higher Education Leadership and Policy Studies Program at the University of Houston, so that takes up a tremendous amount of time! I also enjoy visiting the Houston Zoo with my six-year-old son, cooking & baking, and running around with my German Shepherd rescue, Cannoli!
---