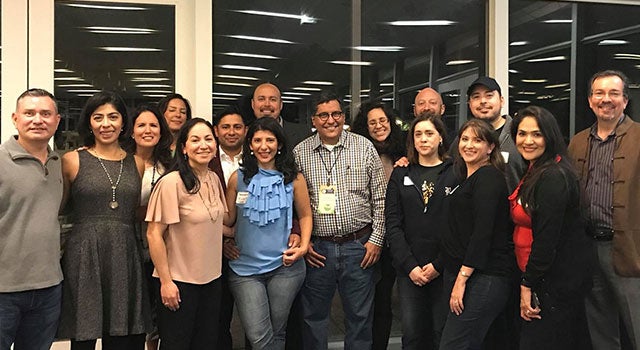 Mission of Society of Latino Alumni Of Rice (SOLAR)
The mission of Society of Latino Alumni of Rice (SOLAR) is to coordinate the efforts of Latinx alumni to increase opportunities for Rice community members to connect, learn and serve. Our vision is to develop engaged alumni ready to serve and lead our communities as visible Latinx alumni. We look forward to creating spaces to celebrate and learn about our diverse Latinx culture within an inclusive community and professional network.
SOLAR is an affinity group organized under the auspices of the Rice University's Association of Rice Alumni. It hosts several events, including an annual homecoming reception, professional development workshops and those that bring together other alumni affinity groups and connect alumni mentors with mentees.
The organization continues to liaise with faculty, staff, the Hispanic Association for Cultural Enrichment at Rice (HACER) and the Latin American Graduate Student Association (LAGSA).
To financially support SOLAR's programming, visit giving.rice.edu and indicate that your gift go to the "Society of Latino Alumni of Rice" in the "Special Instructions" field. We appreciate your support.

Volunteer Leadership
Please consider serving as SOLAR leadership – all are welcome to do so. Simply email SOLAR@ricealumni.net. During the 2019-20 academic year, we plan to create a board member selection process that can be used fairly and consistently.
Chair: Fernanda Pierre '14
Chair-Elect: TBD
Past Chair: Matthew Andrade Cheney '11 and '14
Current Leadership: Myrna Garza '16, Placido Gomez '13, Vanessa Morales '12, Luz Rocha '14 and Anna Salinas '09

History of SOLAR
SOLAR was founded as a nonprofit organization by a group of Latino alumni after a 1996 Fifth Circuit Court opinion ending consideration of race in university admissions policy, which lead in 1997 to the inclusion of financial aid and scholarships in that policy. However, in 2003, the Supreme Court ruled that universities in the Fifth Circuit's jurisdiction could again use race as a factor in admissions and financial aid. SOLAR's initial mission to award financial aid to Latino students at Rice using race as a factor has grown into one of providing professional opportunities for students and alumni. SOLAR is no longer a nonprofit organization.