Meet the 2022 Sallyport Award Recipients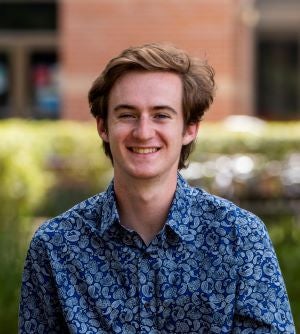 Mason Reece '22 (Hanszen)
Mason Reece grew up in North Carolina amidst unprecedented affronts to our democracy – gerrymandering by race, strategic polling place closures, and more. While at Rice, he has worked to eliminate barriers to youth voting, particularly in marginalized communities, and to rekindle generational belief in the power of voting. For the 2020 election, Mason was elected precinct chair and became the first student presiding judge at the Rice polling location, recruiting and leading a team of student poll workers to serve over 13,000 voters. As president of Civic Duty Rice and a member of the RICEngaged coalition, Mason brought together Rice administrators, student groups, and the broader Houston community to ensure our voting system served everyone. He also served as the main organizer of the 2021 Houston Youth Voters Conference to give a platform for young leaders around the city to discuss their unique perspectives and work. As part of his political science and social policy analysis studies, Mason completed research on Harris County's election systems to support our local election administrator and help ensure there were safety protocols and innovative voting methods across the county for elections during COVID-19.

Mason's true home at Rice was at Hanszen, where he could be found most days solving crosswords, helping his peers with their work as an academic mentor or drafting new legislation as the college parliamentarian. Although he came into Rice having never ridden a road bike, Mason has since coached numerous new riders as Hanszen bike captain and the RUCT cycling president, giving back to a community that cared for him when he first matriculated. Although Mason will not be completing his PhD in Political Science in Houston he will surely be back for beer bikes far into the future.
---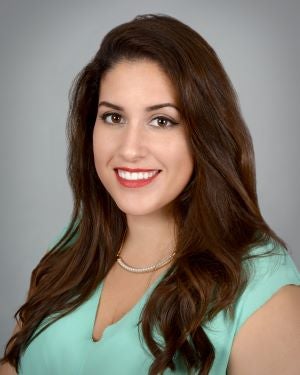 Liana Reyes '22
Liana Eustacia Reyes is a Ph.D. Candidate at Rice University's Department of Political Science and Predoctoral Fellow at the University of Arizona's School of Government and Public Policy. In the summer of 2022, Liana will be a Provost's Postdoctoral Fellow at the University of Pennsylvania and an incoming Assistant Professor of International Relations at Purdue University-both appointments in their respective political science departments. Her work examines the determinants of conflict resolution mechanisms and their consequences.
To date, her research has been generously funded by the National Science Foundation and Rice University. It has also been published in the Journal of Conflict Resolution, International Studies Quarterly, and Studies in Conflict and Terrorism. In addition to her scholarly work, Liana is the founder and former President of the Minorities in Social Sciences at Rice University.
---
Past Sallyport Award Recipients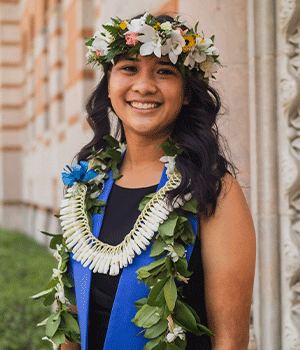 Chloe Oani '21 (Lovett)
Chloe Oani will graduate in May 2021 with a degree in sport management and a concentration in sport law. Originally from Torrance, California, and having lived in four different countries and multiple U.S. states, Chloe is incredibly thankful to describe Lovett College as her definition of home. As the first two-time elected president of her residential college, Chloe used her role to maintain and grow her community's academic, social and cultural experience, and empower her fellow peers to achieve their own multi-faceted vision of success. Chloe is a proud member of the Lovett PODS Squad which organized temporary storage, packing and shipping during the early stages of the COVID-19 pandemic. On a campus-wide level, Chloe helped design the fall 2020 undergraduate move-in protocol and wrote safety guidelines for recreational outdoor activities at the residential colleges.
Chloe has also served as the senior student manager of the Rice Women's Soccer team, which has cultivated her passion for student-athlete development and ambition to work in the collegiate or international sports industry. During her time as an undergraduate student, you could find Chloe in the front row of the student section of any Rice athletics home event or going on long walks across campus in an effort to beat President Leebron in a Fitbit step challenge. In her spare time, Chloe enjoys playing on her residential college's powderpuff team, solving jigsaw puzzles and creating custom emoji reactions in her Slack workspaces.
---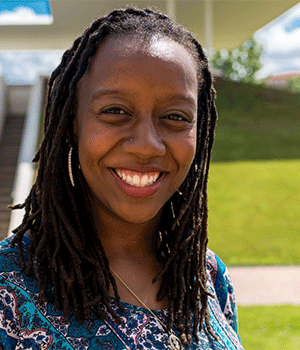 Dani Perdue '18 '21
Dani Perdue is a National GEM Consortium Fellow and holds a Ph.D. in mechanical engineering from Rice University. She completed her B.S. in mechanical engineering at the University of Pittsburgh in 2016 and her M.S. at Rice in 2018. Her research interests focus on computational fluid dynamics and heat and mass transfer for Energy-Water Nexus applications, such as thermally-driven membrane distillation systems.
Dani has served the Rice community in a variety of ways. During her first year, she recruited six Black students to come to Rice for graduate school at the NSBE National Convention and served as the mechanical engineering Graduate Student Association (GSA) representative. From that point, she formed strong relationships with many undergraduate and graduate students, faculty, staff and university administrators. She founded the Mechanical Engineering Graduate Student Association and served as the president of the Black Graduate Student Association. Finally, she served as the first Vice President of Equity and Inclusion in the GSA. In this role, Dani used her experience of cultivating relationships and feelings of belonging between Black graduate students and Black faculty to bring together the greater graduate student community. Her goal was to elevate that feeling of unity between all graduate international students and cultural groups. This was done through the new International Buddy Program and Club Connections Program which focused on mentorship, socializing and professional development. Dani believes that the major diversity efforts she and Rice leadership have made will continue to enrich students' experiences and substantiate Rice's commitment to strive for excellence in both education and equity. Outreach and community service are extremely important to Dani and she looks forward to having the opportunity to do more as a Rice alum.
---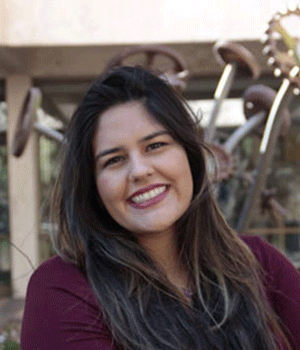 Ariana Engles '20 (Lovett)
Ariana Engles came to Rice hoping to find a place she could call home. While at Rice, she served the university through a variety of leadership positions and spearheaded initiatives aimed at building and improving the Rice community. As a Mexican-American student, creating a sense of inclusion for all was a top priority, particularly during her tenure as SA senator and president.
As an undergraduate, Ariana was a proud member of Lovett College and studied religion. Outside of the classroom, she advocated both through leadership positions and her volunteer work for immigrant's rights, educational equity, students with disabilities, civic engagement and homelessness. While SA president, she focused on creating student support programs for undocumented and immigrant students, supporting survivors and improving mobility safety. Ariana fostered Houston-wide connections through the Mayor's Student Leadership Alliance, where she served on a committee focused on reducing food insecurity on Houston's college campuses. Ariana served as a TA for UNIV 110: Foundations for Self-Discovery as well as Rice's innovative Critical Thinking in Sexuality course, and was an O-week co-advisor at Sid Richardson twice. Ariana took joy in mentoring her peers and building support systems for students across campus. Rice is where she learned to truly understand the phrase "if you want to go quickly, go alone. If you want to go far, go together."
After graduating, Ariana joined EY-Parthenon as an associate in the Transaction Strategy & Execution practice. She has partnered with a local school to develop anti-racist programing and has continued mentoring younger students. Ariana stays connected to the Rice community through her position on the SOLAR executive board, as a Lovett associate and through the Rice Alumni Volunteers for Admissions (RAVA) program.
---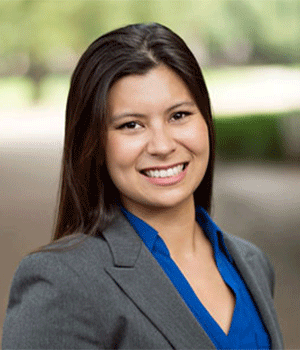 Alicia Mangubat-Medina '16 '20
Alicia Mangubat-Medina elevated the Rice community by spearheading initiatives that strengthened bonds within the Rice community, alumni and local communities.
As a graduate student in chemistry, Alicia was a proud member of the GSA, volunteering at numerous events and as a Valhalla bartender, and serving as an Iron Woman on the GSA Beer Bike Team for three years. Recognizing opportunities to further develop the Rice community, she began founding and coordinating new events to build interdepartmental bonds, engage alumni and involve young women in the Houston community in scientific research. Her first initiative, the Bucky Ball, was the first of its kind for the GSA and consisted of a formal interdepartmental social gathering to celebrate the Nobel Prize awarded to Rice chemists. The event has, in a few short years, become tradition. Within her department, Alicia organized an annual career symposium to engage alumni in returning to Rice to share about their career paths. In addition to enhancing the experience of her fellow graduate students, she engaged local Girl Scouts in learning about scientific research by starting the community outreach event Girls n' Science, where graduate students from all STEM fields mentored young women in discovering research.
Alicia holds a Ph.D. in chemistry and is currently a Hewitt Foundation for Biomedical Research Postdoctoral Fellow at the University of California, Irvine, where she is developing bioluminescent probes for in vivo imaging.