Alejandro Chaoul '06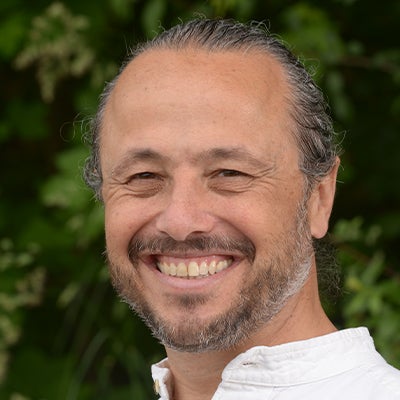 Founding Director, Jung Center's Mind Body Spirit Institute
BA, BS 1987, Boston University
MA 1999, University of Virginia
Ph.D. 2006, Rice University

ARA Board term ends: 2024


Get to Know Alejandro
Executive Biography

Alejandro Chaoul is the Huffington Foundation Endowed Director of the Mind Body Spirit Institute at the Jung Center of Houston, which brings a new approach for helping healthcare professionals flourish by reducing stress and burnout, improving health and resilience and nourishing the human spirit.

Chaoul has a Ph.D. in Tibetan religions from Rice University and has studied in the Tibetan tradition since 1989, including training in Triten Norbutse monastery in Nepal and Menri monastery in India. He has been teaching meditation classes and Tibetan Yoga (Tsa Lung & Trul Khor) workshops nationally and internationally under the auspices of Ligmincha International.

In 1999, he began teaching at the Integrative Medicine Program of the M.D. Anderson Cancer Center in Houston, where he holds an adjunct faculty position. For the last 20 years, Chaoul has researched the effect of these practices on people with cancer and their caregivers. A fellow at the Mind & Life Institute, Chaoul also serves as an adjunct faculty member at The University of Texas McGovern Center for Humanities and Ethics, where he teaches medical students in the areas of spirituality, complementary and integrative medicine, and end-of-life care. Previously, he has taught at Rice University, the University of Houston and the University of Maryland in Baltimore. In addition, he has collaborated in the area of interfaith and contemplative practices at The Rothko Chapel and the Boniuk Center for Religious Tolerance at Rice University.

His research and publications focus on mind-body practices in integrative care, examining how these practices can reduce chronic stress, anxiety and sleep disorders and improve quality of life. He is the author of "Chod Practice in the Bon Tradition" (SnowLion, 2009) and "Tibetan Yoga for Health and Wellbeing" (Hay House, 2018), and has also published in the area of religion and medicine, medical anthropology and the interface of spirituality and healing.

What part of serving on the ARA Board are you most excited about?

I am honored to serve on the ARA Board, and I see it as a wonderful opportunity to re-engage with Rice students, alums, staff, faculty, administration, leadership and volunteers. I look forward to reconnect with some people I knew before and to start new connections! I would like to help foster more interaction of diverse groups and interests. As an international Latino student, I would like to support that community at Rice, and from my training and interest, support groups of mind-body-spirit practices. I am happy to mentor any groups or students.

What is your favorite "Only at Rice" memory or story?

In 2005, His Holiness the Dalai Lama was going to visit Rice for a third time, and I had the privilege of being involved with the visit. A moment that was particularly an "Only at Rice" moment was to show President Leebron and his wife, Ping Sun, how to offer a khata, a traditional Tibetan silk scarf, to His Holiness. The visit was postponed due to hurricane Katrina, but fortunately it was rescheduled for 2007.

One of his lectures was on Compassion and Tolerance, and another special Rice moment was help create the Tibetan banners for his talk and being in his presence at Rice's campus.

If you could give one piece of advice to Rice students, what would it be?

Enjoy your time as a student, whether you are undergraduate or graduate. Don't focus just on studies (although of course that is the main reason why you are here); meet people from Rice and the Houston community. Houston is so ethnically diverse! Enjoy meeting different people, eating a variety of foods, listening to a variety of music and many other adventures. Explore!

Also, do volunteer work if you can, at Rice or in the community. And if you can, also study abroad and/or visit other countries.

Being a student is such a precious opportunity!