Year in Review
Rice's celebration featured several events throughout the year and culminated with the Blueprint for Excellence Gala in October 2016. Below are some of the highlights:

ARUBA Blueprint for Excellence Gala Weekend, Sept. 30-Oct. 3
Rice University, ARUBA and the Office of the President hosted a weekend of events celebrating Rice's 50 year milestone.
A lively 50th Celebration Reunion Party featuring DJ Kool.
The State of Black Life at Rice University: Panel & Luncheon featuring remarks by Provost Marie Lynn Miranda and Dean of Undergraduates John Hutchinson, followed by a panel of Rice alumni, staff and faculty who discussed how the university community can continue to support diversity.
The Blueprint for Excellence Gala, where the recipients of four outstanding achievement awards were recognized. Proceeds from the evening will be used to establish a legacy endowment to promote diversity initiatives at Rice University and substantially impact the black community on campus.
Blueprint for Excellence Brunch to cap off the weekend.
The President's Lecture Series featuring community activist, philanthropist and Ford Foundation President Darren Walker, who shared his personal experiences and thoughts on diversity, equal access to educational opportunities and addressing the inequality gap through new institutional approaches.
>>Watch the video: Celebrating 50 years
>>Rice News: 6 honored at Blueprint for Excellence Gala
>>Rice News: 'The State of Black Life'
>>Rice News: Ford Foundation president: Inequality 'one of the great challenges of our time'
>>The Rice Thresher: Panel discusses inclusion of black students, faculty
>>Culture Map: Rice celebrates 50 years of black undergraduate life with grand awards gala

The galleries below include photos from Sept. 30-Oct. 1 events held as part of the celebration of 50 years of black undergraduate life at Rice: the Blueprint for Excellence Gala, the panel on "The State of Black Life at Rice" and the 50th Celebration Reunion Party.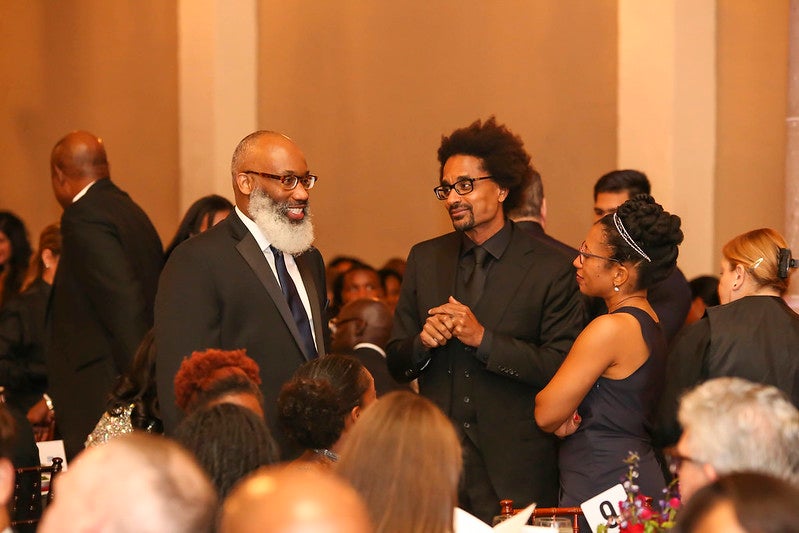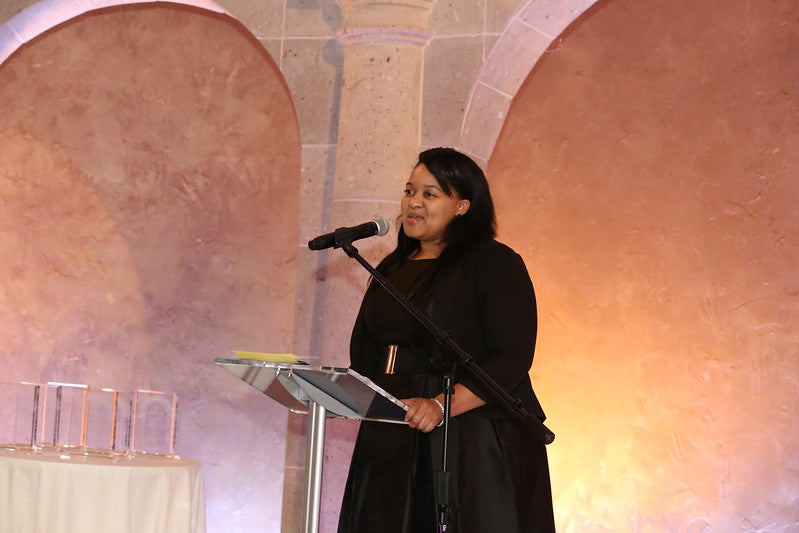 New Alumni Welcome Reception, May 12
Over 100 graduating students and their family members joined ARUBA for the annual New Alumni Reception. At the event, the graduating students received their kente cloth stoles that were worn during the commencement and graduation ceremonies, as well as heard remarks from ARUBA leaders about ways to stay involved with Rice post-graduation.
Reunion Weekend: Celebrating Trailblazers in Rice Athletics," April 1-3
More than 125 guests, many of them former and current athletes, attended a dinner celebration in Rice Stadium's R Room on April 1 in honor of 15 black alumni who were among the first to compete or coach in a sport at Rice (read the Rice News story). Featured speakers included Bobby Tudor '82, chairman of the Rice Board of Trustees, David Leebron, president of Rice University, and Joe Karlgaard, director of Athletics, Recreation and Lifetime Fitness.


Among those honored were Stahlé Vincent '72 (football), Rodrigo Barnes '73 (football), Willis Wilson '82 (head coach, men's basketball), Joseph Callier '77 (men's track and field), Darryl "Doc" King '79 (men's track and field), Leila Freeman '79 (women's track and field), Denise Bostick '80 (volleyball), Goya Qualls '82 (women's basketball), Wanna Hadnott '84 (women's tennis), Don Freeman '89 (men's tennis), Raffi Belizaire '05 (soccer) and Lauren Lewis '13 (swimming). Leroy Marion '72 (men's basketball) and Mike Tyler '72 (football) were honored posthumously.
The dinner celebration was followed by a Final Four Watch Party on April 2 and a Reunion BBQ at Gatlin's BBQ on April 3 (special thanks to Greg Gatlin '03).
Rice's annual Soul Night event, March 26
The Black Student Association presented a cultural extravaganza in the Grand Hall of the Rice Memorial Center.
"for colored girls who have considered suicide / when the rainbow is enuf,"
March 11-13
Rice students performed the critically acclaimed play by Ntozake Shange March 11-13. The event was sponsored by the Office of Multicultural Affairs.
Inprint reading featuring poet Tracy K. Smith, Feb. 29
The Inprint Margarett Root Brown Reading Series, presented in association with Rice University Multicultural Community Relations and the Boniuk Institute for the Study and Advancement of Religious Tolerance, featured Tracy K. Smith reading from her new memoir "Ordinary Light" and a Q&A session. View the story in Houston Chronicle (subscription required to view full article).
"Reflections of the Past, Promises for the Future," Feb. 18
On Feb. 18, Rice University and the Association of Rice University Black Alumni (ARUBA) hosted "Reflections of the Past, Promises for the Future," a panel discussion and reception featuring Rice President David W. Leebron; Centennial Historian Melissa Kean '96, '00; Professor Emeritus Allen Matusow; Gene Locke, Harris County commissioner for Precinct 1; and alumni who discussed their experiences during the early years of black undergraduate life at Rice, including Ronald Arceneaux '74, Regina Tippens '74, Charles Szalkowski '70 and Jan West '73.

Highlights from Rice News (6 minutes):
Watch the full program (2 hours 11 minutes):
MLK Vigil, Jan. 17
On Jan. 17, the eve of Martin Luther King Jr. Day, the Rice University community held a candlelight vigil followed by a program titled "Dreamers and Doers – Acknowledging the Collective Work of Community as We Celebrate the 50th Anniversary of Black Undergraduates at Rice." The event was hosted by the Black Student Association.