Classes of 2017 & 2018, celebrate your 5th Reunion!
Brew up fun before Beer Bike by celebrating your milestone 5th reunion! On Friday, March 31, reconnect with friends and classmates at a special party honoring the Classes of 2017 and 2018. Enjoy delicious food, an open bar, music and more.
Extend the fanfare during March 30-April 1 with Young Alumni Weekend, Rice's celebration exclusively for those who have graduated within the past 10 years. Join us for three days of exciting events, including your reunion celebration, and then connect with the entire alumni community at the Alumni Tent at Beer Bike on April 1.
Register below for all events, including your reunion and the Alumni Tent at Beer Bike.

Online early bird registration ends Wednesday, March 29.
---
Reunion Giving
Your reunion year is the perfect time to give back and ensure that current and future Owls have the same life-changing opportunities that shaped your education.

2017 Reunion Giving Chairs

2017 Reunion Giving Committee

Belle Harris
Lauren Heller
Jeffrey Joyce
Senthil Natarajan
Maya Ramy
Jeremy Reiskind

2018 Reunion Giving Chairs

Michael Devine
Albert Nabiullin

2018 Reunion Giving Committee

Zohra Baig
Ana Gonzalez De Corcuera
Kunal Shah

Schedule
Thursday, March 30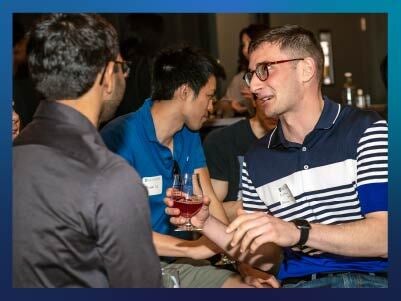 Brains in a Bar
6-8 p.m.
Pricing: $10 Early Bird; $15 Walk Up
Grab a drink at a Houston hot spot (location coming soon) and listen to a member of the Rice community.
---
Friday, March 31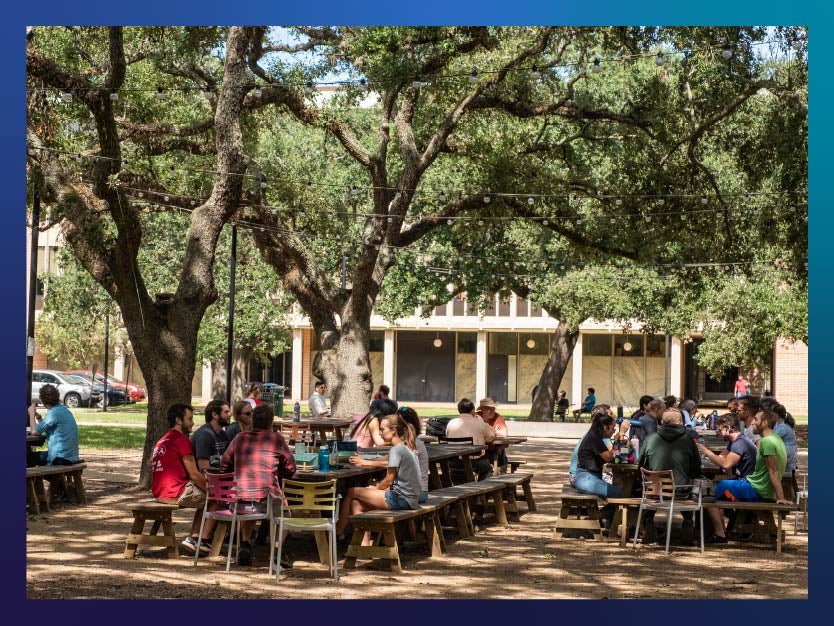 Picnic at Valhalla
11 a.m. to 1 p.m.
Pricing: $10 Early Bird; $15 Walk Up
Bites and brews await you at this sacred spot on campus. Enjoy a cold beverage (or two) at our outdoor picnic.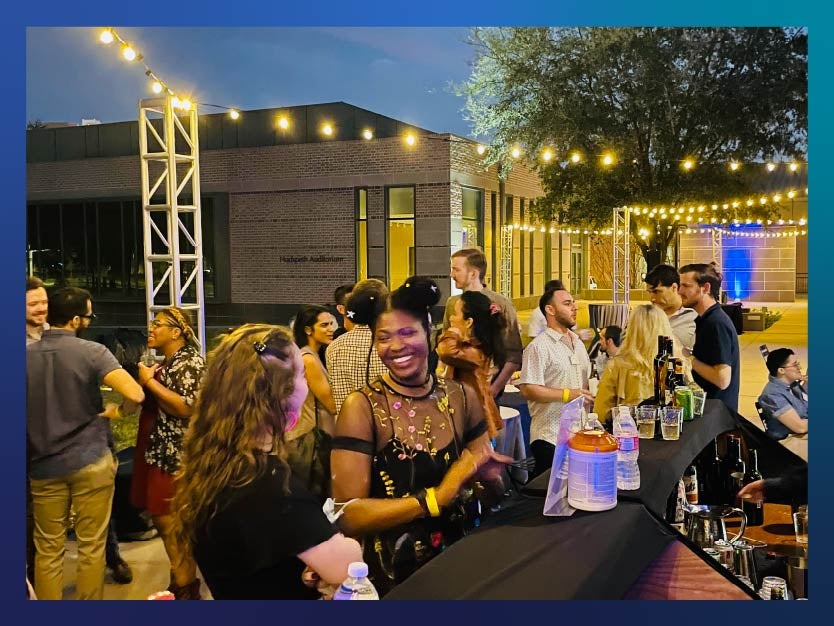 Rice's 5th Reunion Celebration
7-9:30 p.m.
Anderson-Clarke Center
Pricing: $40 Early Bird; $50 Walk Up
We're throwing a special party in your honor! Ticket price includes hors d'oeuvres and an open bar.
---
Saturday, April 1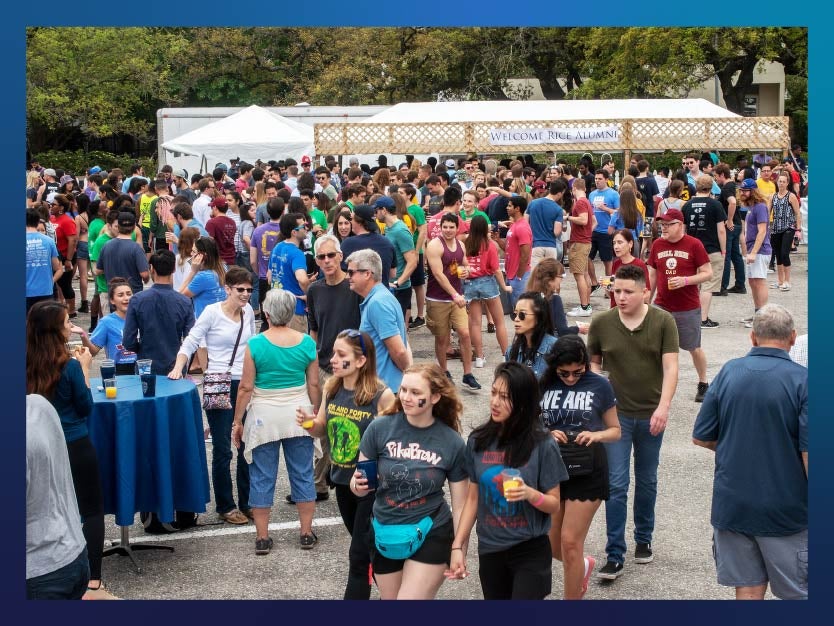 Alumni Tent at Beer Bike
8:30 a.m. to 3 p.m.
Pricing:
Young Alumni: $10 Early Bird; $15 Walk Up
Alumni and friends: $15 Early Bird; $20 Walk Up
Fuel your Beer Bike fun with breakfast tacos, mimosas, pizza, beer, cider and more at the Alumni Tent.
---


Frequently Asked Questions
Is advance registration required?

While advance registration is not required, it is strongly encouraged. Walk-ups are welcome.

Does Young Alumni Weekend include the Alumni Tent at Beer Bike?

Yes, Young Alumni Weekend culminates with the entire Rice community at the Alumni Tent at Beer Bike. You can register for the Alumni Tent at Beer Bike via Young Alumni Weekend registration.

What do I need to bring?

Please bring a government-issued ID (driver's license or passport) to all events.

Where can I park for on-campus events, including Picnic at Valhalla and the Alumni Tent at Beer Bike?

Parking is available on campus. The best spots for the Picnic at Valhalla are the North Lots. South Stadium and West Lots are best suited for Beer Bike. Please visit parking.rice.edu for information regarding parking rates and facilities for visitors.

Will you accept Apple Pay or Venmo at any events during the weekend?

We are not able to accept payments using Apple Pay or Venmo. Credit and debit payments are accepted.

Can alumni visit the residential colleges?

No, alumni should not for any reason visit the colleges before, during or after the event.

Which entrance should alumni use to access the Alumni Tent at Beer Bike?

Alumni should only use the Greenbriar Lot entry. If any alumni guests try to enter on the other side to cross the track, they will be instructed to go around on the sidewalks to the Greenbriar entrance.