Reunite on campus and celebrate Rice at Owl Together!
On Oct. 28-29, Owls from near and far will be drawn together by tradition, friendships and a one-of-a-kind campus experience. Join us for Owl Together, a weekend that combines Homecoming & Reunion and Families Weekend activities into one celebration for alumni, families, students and friends.
---
HOMECOMING
Join alumni, friends and family on campus to celebrate lifelong friendships and special memories made at Rice. Get ready for two days packed full of vibrant homecoming weekend activities, including:
The first President's Town Hall with Reginald DesRoches
Owl Together Tailgate and Family Fest
Rice Owls vs. Charlotte 49ers football game
Rice Faculty Keynote Lecture
Residential college activities
And much more!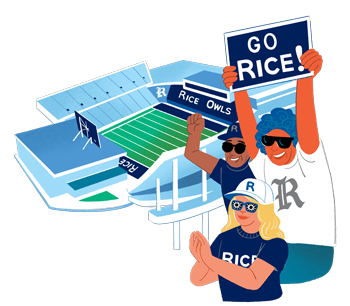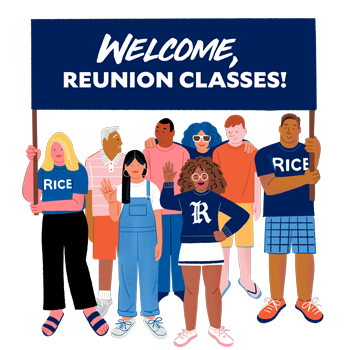 REUNIONS
Join us on campus for your class reunion. In addition to the exciting homecoming activities, select graduating classes can reconnect with classmates and friends at a celebration in their honor.
See the reunions page for a full schedule with dates, times and locations of each reunion celebration event.
The Class of 2017 5th Reunion Celebration will be held in Spring 2023 as part of Young Alumni Weekend.
FAMILIES WEEKEND
Parents and families are a special part of our Rice community, and we want to celebrate you and your student during Owl Together. Receive a warm Rice welcome and enjoy all the vibrant homecoming activities in addition to unique events for parents, including:
Family Breakfast with Rice Leaders
The Student Leadership Forum
Owl Together Tailgate and Family Fest
Rice Owls vs. Charlotte 49ers football game
Rice Ring Celebration
And much more!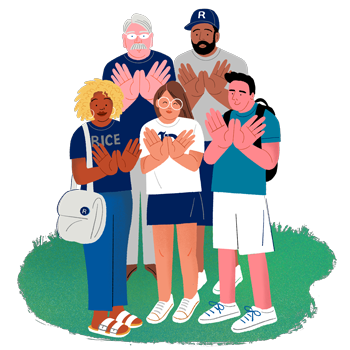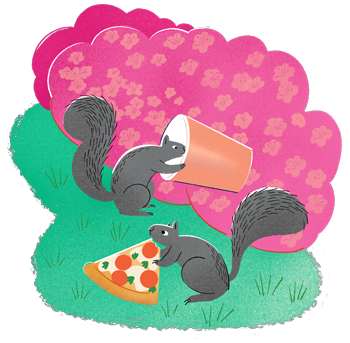 About the Artist
The illustrations for Owl Together 2022 are provided by Washington, D.C.-based artist Delphine Lee. Her work has appeared in Rice Magazine and several prominent national media outlets, including the Washington Post, Wall Street Journal, New York Times, NPR and The Economist. Learn more about Delphine at delphinelee.com.